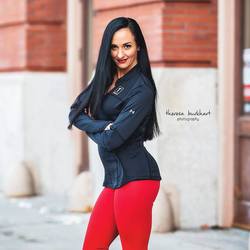 Katherine Hood

Spokane, Washington
Health and Fitness Coach, Life Coach, ADD ADHD Coach
ACE Certified Personal Trainer, Rapid Transformational Therapy Practitioner, HCI Life/Health/Mastery Coach, DPP Certified, CDC Diabetes PP Certified
Are you ready to create the best, healthiest balanced life? Look & feel younger, once & for all in control & excited to get out of bed each day? Let's have a powerful conversation & create a plan!
About Me
I am passionate about helping individuals reach their goals, overcoming challenges/obstacles, and watching their lives change and those around them. Making an impact is fulfilling and exciting.
You will learn a lot about yourself, discover strengths you never knew you had, and gain more balance and overall happiness through coaching sessions.
An awareness of how to focus on your strengths and make the changes you have wanted to make.
As your coach, I'll work with you to achieve your goals one step at a time. Dreams come in all sizes and can constantly be changing; that's what I love about being part of people's journey and ever-evolving!
I have a diverse background and skill set. Some of the areas and fields I've excelled, served, led, studied, been trained and/or trained others in:
Diabetes prevention
Career/Business coaching
Life Coaching
Stress management
Health Coaching
Wellness and Healthy Lifestyle
Weight loss
Personal training
Relationship Coaching (going from single to finding your life partner)
Rapid Transformational Therapy Practitioner
Reviews
10 reviews (5.0)
The beautiful abundance of information I have gathered from Katherine came into my life at the perfect time. She was gentle, knowledgeable and actively held me accountable to face my stubbornness when I was self sobatoging. I follow and have hired other heath/fitness instructors who have taken the money, sent automated responses and walked away. Katherine undoubtedly stands out being proactive in every step. Her intelligence, training, continuing education, accountability and love for others supersedes all expectations.

Shar
Before I started working with Katherine I was looking for guidance in creating a healthy lifestyle that was realistic. I've tried many different programs and wanted a person that I could reach out to personally when I struggled & who would be there to help me create my own healthful lifestyle. After working with Katherine I found a fun, informative environment with accountability & caring support. She was there daily; encouraging me & sometimes calling me out! I learned that some carbs are necessary, eating more frequently, drinking water and getting 8 hours of sleep each night are good things, and is sustainable! Katherine is a mentor and a power house of great information; I know I can reach out to her for anything and always receive great guidance!

J. Bullard
Before I started working with Katherine I was pretty much all over the place and getting nowhere. After working with Katherine, I learned to eat every few hours. I have so much more energy and fewer cravings. I am not at my ideal yet, but I am confident with the skills I've learned through Katherine, I have the tools to get there!

Stacy H
Since Katherine Hood became my health coach she has been supportive and helpful and i have improved my overall health since she gave me all the tools needed to help me achieve my goals! I will highly recommend her to anyone who is willing to make positive healthy changes under her help and guidance!

Travis Gustafson
Before I started working with Katherine, I had felt pretty sluggish for years. I wasn't happy with my weight or how I looked in dresses (which I love to wear!). It seemed like there was almost always something wrong with me physically. I wanted to feel sexy again, have more energy, and experience life on an accelerated level. After working with Katherine, I have all of those desired wish list items! I can't believe how much energy I have now! And, man, I haven't felt this good...this sexy in a very long time. I am healthy, nutritionally, physically, and mentally! I have a much more balanced life with sleep, work, and fun. There are no words to describe how thankful I am to and for Katherine. This isn't just her 'job'. She has made this a huge part of her purpose - helping us all reach our highest level of health in all areas!

Candace Ginn
Before I started working with Katherine I struggled with what I was doing wrong and why my weight loss had stalled. Katherine helped me find the right balance between sleep, eating and exercising.

Heather Everette
I was struggling with some health issues before I met Katherine and of course the doctors always want to medicate, but in my heart I knew there was something better but what? It just happened that Katherine started a healthy lifestyle group online and with her experience and day to day coaching I was able to set and meet my goals. I lost 30 lbs in a healthy way learned the benefits of exercise and eating right along with drinking 1 gallon of water a day! To my doctors surprise after reviewing my blood work she asked are you taking any other medications? I said no and she preceded to ask me how I changed all my levels in my blood work without medication. I was happy to let her know that it was a lifestyle change. All I know is with a great a great coach (Katherine Hood), a plan and a little hard work on your part anything is possible. Its been 2 years and I have stayed within 5 lbs of my goal weight. I will always be grateful for Katherine and her help.

Audra Mcghee
Katherine has been a wonderful coach. She stays in touch, has great ideas, and is very knowledgeable. All you have to do is see her and speak with her to understand she leads by example with exercise and healthy food choices.

Monica W.
Before meeting Katherine I had been struggling most of my life in my relationship with food. I was overweight, but more importantly, my quality of life was lacking. I had failed to see that I had a food addiction, that food had become my source of comfort, pleasure, and companionship. I saw a need for serious change in my life that didn't involve another fad diet that would only provide temporary results. Katherine helped me see things differently. Since working with her, I have lost a lot of weight. While I have not reached my weight goal yet, my quality of life has improved so much, my relationship with food has changed drastically, and I have found a desire to truly love myself that doesn't involve soothing with food. She is straightforward, honest, and yet kind and encouraging. She didn't push me beyond what was needed in each moment but encouraged me to stretch one step at a time. This allowed me time to make small changes that led to big changes. I cannot express how much I appreciate everything that she did to help me change my life in incredibly meaningful ways.

Sandra H
I was introduced to Katherine several years ago by a friend who had started using her as a coach. My personal journey with her started about a year ago at 215 pounds. I sent Katherine a message sharing my troubles, goals, an heartache. She listened, advised, no helped me get started on a plan that not only helped me lose 40 pounds to date, but also change my lifestyle and the way I think about health! If I had it to do all over agin I would have talked with her YEARS ago when I first met her!!

Anna
The Smart Way To Find A Coach

1 Describe Your Goals

2 Get Matched

3 Free Consultations
Find My Ideal Coach Now