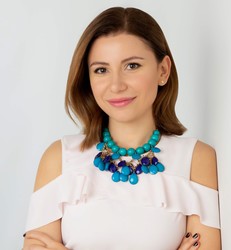 Katia Craig

New York, New York
Relationship Coach, Life Coach, Christian Coach
BA, PCCI
Are you done wasting your life on unworthy men? Coaching with me will equip you to meet the one and build the relationship you so deeply desire.
About Me
I know that you're the kind of person that wants to be with a great guy and in a happy relationship.
Am I right?
But if your relationships keep on falling apart, it means there is a need for self-work.
The thing is, it's not easy. Which probably just makes you ignore the whole problem.
But ignoring will only lead you to wasted years of life.
I understand that it might seem overwhelming.
But it shouldn't be that way!
That's why I've created my 12-week coaching program THE One where I will walk this journey with you side by side.
It's not another blueprint 'one fits all.'
I will design the program to address your specific needs. I will simplify and ease the whole learning & growing for you, so you don't have to waste years on wrong men, or continue to struggle.
It works in three easy steps:
1. We get on a 90 min strategy call where you will voice your concerns, and I will create a strategy to get you to your goals within 12 weeks.
2. We then commence with our weekly 50-min sessions.
3. As a bonus, you'll be getting weekly exercises and learning materials to enhance your evolvement progress.
You will feel better right after the first session. And by our last, you'll have a feeling you own the world.
Please contact me for more information, or visit my website.
I also offer regular 1-on-1 coaching sessions.

Stop struggling and start living with ease and confidence!
Katia
Reviews
4 reviews (5.0)
I did "the one" program with Katia, which was 12 weeks. It has been a great experience for me. The sessions were well-organized and I recieved a progress report after every session. I was always excited for the next session. It wasn't the kind of program with fixed topics, not at all, I choose what is important for me and what I wanted to talk about. I personally loved the excercises and the books Katia recommended for me, that made me work almost everyday on discovering something new about myself and what I want, and benefit from these three months the most. What I loved the most about Katia's approach is that she LISTENS, she really listens to what I say, and gives me all the time I need to express an idea, and only after I finish she gives me her opinion or digs deeper into that idea. And it's incredible that she remembers almost everything I've said, even from our first sessions! That made me feel that she cares! Thank you Katia for everything!

Sawsan
Katia is a real professional. I started our coaching sessions full of doubts which left me with no energy. Katia helped me to see the bigger picture. Her right questions, showed me that all my fears were rather my imagination and I finally was able to take a step that I could not dare before. Katia also helped me think through the next steps and the future no longer scared me. I felt a surge of energy, faith in myself and strength to make my dreams come true. Thanks!

Aliona
Sessions with Katia helped me understand my goals and separate the important from the insignificant. A lot had become clearer, my perception has changed on many things. I now feel confident and rely on my strengths to choose the right things for me. As a result of coaching with Katia, I am prioritizing things differently and feel happier with the outcomes. Very grateful!

Larissa
It was fun and easy! I wasnt very sure of what to expect and how it would go, but the results are astounding. Were too busy to be able to process what we experience and make any sense of it. Besides, were too objective. Katia helps you see the other side of the story. Just in a few sessions, Ive experienced so many eye-opening moments. These revelations have changed the way I look at things and liberated me from so much junk Ive been carrying in my head. You will regret if you dont book her now. Shes a treasure!

Elizaveta Esmont