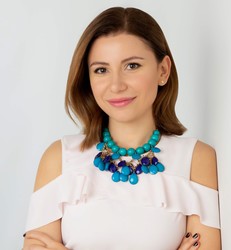 Katia Craig

New York, New York
Relationship Coach, Life Coach, Christian Coach
BA, PCCI
Are you in search of a partner for life? Do you want an authentic and committed relationship, but finding it very difficult to meet someone decent and to build the relationship you so deeply desire?
About Me
YOU HAVE EVERYTHING GOING FOR YOU, EXCEPT THIS ONE MISSING PIECE.
You're lonely. 
You're craving for a profound intimacy with a man. 
But your attempts at love keep breaking apart. 
You worry you'll never be able to have a proper relationship. 
Moreover, you can't afford more pain or disappointment. 
All you want now is the real deal.
The good news is there's no reason why you shouldn't have it!
Are you ready to find a decent man, build a healthy relationship, and marry him? Like, in the next two-three years? 
Then let's jump on a call and get to work!
You will:
* Gain clarity of why things have been going wrong in your past relationships 
* Effectively meet new guys and quickly determine whether there is potential
* Get knowledge required to build a healthy relationship & begin to apply it straight away
* Practice self-love & gain confidence 
* Identify mental blocks that have been holding you back from the things you want in life and transform them into positive, affirming beliefs
Bonus: I will personally guide you through your real-life dates to achieve results fast
Coaching with me is not about giving you some blueprint methods or worn out info you can easily find on the net. It's about solving YOUR particular issues to get you desired results as efficiently and swiftly as possible.
Do you want to...
Have fun going on dates with plenty of different candidates for your heart?
Feel confident and enjoy your greatest romantic experiences?
Have your man commit to you without hesitation?
You are now facing the choice – are you ready to take responsibility for your life and make conscious positive changes? Or do you want to continue wasting years on undeserving, sad fellas? 
Just think about it, if you don't change something now, it can take years and even decades to find someone decent and have a satisfying relationship. 
Or take charge now, and sort your personal life out in months. 
Reach out and let's get to work!
Reviews
2 reviews (5.0)
Sessions with Katia helped me understand my goals and separate the important from the insignificant. A lot had become clearer, my perception has changed on many things. I now feel confident and rely on my strengths to choose the right things for me. As a result of coaching with Katia, I am prioritizing things differently and feel happier with the outcomes. Very grateful!

Larissa
It was fun and easy! I wasnt very sure of what to expect and how it would go, but the results are astounding. Were too busy to be able to process what we experience and make any sense of it. Besides, were too objective. Katia helps you see the other side of the story. Just in a few sessions, Ive experienced so many eye-opening moments. These revelations have changed the way I look at things and liberated me from so much junk Ive been carrying in my head. You will regret if you dont book her now. Shes a treasure!

Elizaveta Esmont