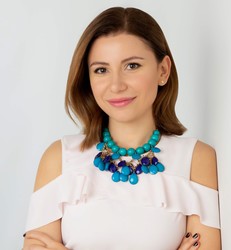 Katia Craig

New York, New York
Relationship Coach, Life Coach, Christian Coach
BA, PCCI
Are you in search of a partner for life? Do you want an authentic and committed relationship, but finding it very difficult to meet someone decent and to build the relationship you so deeply desire?
About Me
DO YOU WANT A RELATIONSHIP THAT WILL CULMINATE IN MARRIAGE? The good news is there is absolutely no reason why you shouldn't have it!
Hi, I'm Katia, a relationship coach. My mission is to help women like you.
• Do you struggle to find a decent man?
• Are your relationships lacking in closeness and commitment?
• Do your attempts at love invariably come crashing down?
I've been where you are many times over, and I know how to help you!
My program The One offers you a highly effective solution you need to create a lasting, loving, and committed relationship.
It is based on HEAL – GROW – SUCCEED concept. This means as you begin to heal and grow, you invite the right person into your life and have all the necessary knowledge to build a committed relationship.
• No more lonely nights
• No more explanations to your friends and family why you're still single
• No more tears and disappointment
It is an elite offer, to which you won't find an alternative on the market.
I will personally coach you and design the program to meet YOUR individual needs.
What does The One offer you?
• Equip you with the knowledge that you require to build a healthy relationship
• Understand self-love & gain confidence
• Gain clarity of why things have been going wrong in your past relationships
• Identify mental blocks that have been holding you back from the things you want in life and transform them into positive, affirming beliefs
• Shift your mindset from limiting to abundant
• We'll determine your strengths, using the findings of Positive Psychology, and see how they could be applied to enjoy a better quality of life and higher achievements
• We'll identify your values – and help you build your life around that
• You will gain awareness. Awareness is a place of power to make the best choices for you.
Don't waste another year on relationships that only bring disappointment. Take control now and build a relationship you've been craving for.
Book your first free 30-minute call now!
Reviews
2 reviews (5.0)
Sessions with Katia helped me understand my goals and separate the important from the insignificant. A lot had become clearer, my perception has changed on many things. I now feel confident and rely on my strengths to choose the right things for me. As a result of coaching with Katia, I am prioritizing things differently and feel happier with the outcomes. Very grateful!

Larissa
It was fun and easy! I wasnt very sure of what to expect and how it would go, but the results are astounding. Were too busy to be able to process what we experience and make any sense of it. Besides, were too objective. Katia helps you see the other side of the story. Just in a few sessions, Ive experienced so many eye-opening moments. These revelations have changed the way I look at things and liberated me from so much junk Ive been carrying in my head. You will regret if you dont book her now. Shes a treasure!

Elizaveta Esmont