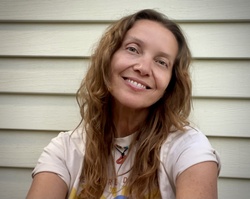 Katia Phillips

Emmaus, Pennsylvania
Relationship Coach, Family Coach, Spirituality Coach
English & Italian
I coach adult men & women in overcoming unhealthy relationships. I help identify painful, hopeless dynamics and find new meanings, favorable outcomes, and ultimately, a personal deep inner connection.
About Me
Hi my name is Katia! I'm a Certified Life Coach & NLP Master Practitioner and I am here to help to find your way to clarity and strength.
Toxic relationships come with damaging pain. Often, even when we are no longer involved with that person, we are still caring with us emotional trauma. Stuck behaviors and emotions, are originated by how your mind perceives traumas or adverse experiences. These experiences often translate into stories and because of these stories, you might be trapped in your past, paralyzed in your present, and hopeless for your future.
We will work together and with the help of transformational techniques you will learn to identify your decision making, beliefs, and feelings. With the mindset shift methods, I have witnessed over and over people experiencing breakthroughs, gaining insights and achieving inner and outer goals. My responsibility to you, is to provide you with competence, accountability, understanding and support.
Reviews
Katia doesn't have any reviews yet.