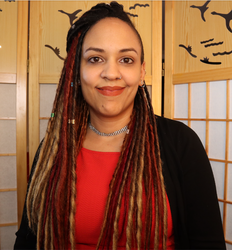 Katy Morin

Montreal, Quebec
Health and Fitness Coach, Life Coach
Certified Meditation and Mindfulness Teacher, Registered Yoga Teacher, CBT Practitioner, NLP Master, Hypnosis Practitioner, Life Coach
I help people who struggle with loneliness and isolation due to social anxiety, feel confident and experience happiness with other people.
About Me
Thoughts are wonderful and wicked at the same time. They can build you up or they can hold you back from taking action towards what you want.
The only way to really know what's going on in your own head is to sit down and watch the movie that only you can see. Through the daily practice of sitting down and watching the thoughts pass through you without judgment, you can start to understand yourself better.
Thoughts records are useful because:
• They make our negative automatic thoughts visible to us
• They help us to identify any problems with our thinking
• They can help us to make changes to our thinking
I'm so excited to be able to offer the method that will give you the "Must Have" tools to get rid of social anxiety in any situation.
• Are you tired of trying 150 different strategies without having real results?
• Are you feeling helpless and unable to act when it comes to certain triggers?
• Do you lack the tools and strategies needed for helping you overcome your urges and stay calm?
• Is social anxiety stopping you from achieving success in your personal and professional life?
As someone who suffered from social anxiety for years, I understand your struggle. Social anxiety is more than getting nervous about a social situation, even though that can be a part of it. It's a constant, overwhelming fear of what other people are feeling and thinking about you. Overcoming social anxiety can be a difficult process, but with help, you can get through it.
With me as your coach:
• You'll be equipped with the most powerful Cognitive-Behavioral Therapy tools and strategies to help you overcome social anxiety.
• You'll learn and put into practice insights, skills, and strategies that you can continue using on your own after the end of the program to help you reach further goals and handle future problems.
• You will be exposed to plenty of highly effective methods for identifying automatic negative thoughts and preventing them.
Reviews
3 reviews (5.0)
Katy is great and provided useful advice to help get started in the right direction, thanks Katy!!

Sam
I was coached about my negative thoughts, I see a positive evolution in the reduction and in the intensity.

Maxime
Katy helped me understand how to manage negative thinking, identify limiting beliefs, and learn how to challenge them in order to find more positive ways of thinking about myself and my life. She was very attentive and providing a great platform to express myself and my issues! Thank you so much :) She has also traveled the path herself and therefore has solid credibility.

Anonymous