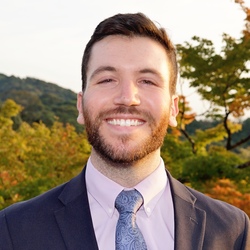 Kelby L Kupersmid

San Diego, California
Leadership Coach, Entrepreneurship Coach, Career Coach
MS, Global Business Leadership, Founder & CEO
Are you at a critical turning point in your career? You're ambitious and know you're capable of more. I can help you develop the mindset and skillset needed to reach your full potential.
About Me
You're already a high performer, but no one makes it to the Olympics without a world-class coach.
You might be working towards a promotion, dealing with the challenges of change or innovation, or preparing to launch your own business. Either way, you know you're capable of more and are willing to do the deep work necessary to get there.
I partner with ambitious leaders like you in thought-provoking and challenging conversations to help them grow and develop in all aspects of their professional and personal lives. If you're up for it, I'll help you do what it takes to get your career to the next level.
Our work begins by crafting a powerful, Personal Vision Statement. We'll design a bold future for where you want to go, and who you need to become to get there.
Next, we'll expand your ways of thinking by challenging limiting beliefs and illuminating blind spots that hold you back. We'll create awareness through deeper and broader thought, which leads to wiser decisions and actions.
Finally, through crystal-clear development goals and strategies, we'll accelerate leadership skills to improve performance and business outcomes so you can achieve more than you thought possible.
This unique approach--of focusing on both mindset and skillset--is the key to sustainable change. Through our work, you will gain clarity in new insights and confidence in new behaviors to achieve powerful, meaningful results.
~~~~~~~~~~~~~~~~~~~~~~~~~~~~~~~~~~~~~~~~~~~~~~~~~~~~~
I'm a Professional Certified Coach (PCC) and I hold a Master's in Global Business Leadership (MS). My diverse background, from working at a pre-revenue startup to a multi-billion-dollar financial institution, informs my unique approach to workplace efficacy. I'm natively fluent in Spanish and have worked and studied in Latin America and traveled to 20 countries across 5 continents.
Assessment Certifications: Workplace Big 5 Profile, Benchmarks 360, Influence Style Indicator, FIRO-Business, MBTI, Polarities
Reviews
3 reviews (5.0)
I worked with Kelby as I was taking on a new leadership role in 2019. I had never previously worked with a coach before and was a bit nervous before hiring him. Although I had previous success in my career, I always felt like there was more that I could achieve. Kelby challenged me to create a more powerful vision for myself and who I could become. Through our work together, he helped me realize all the ways I was subconsciously holding myself back. He helped me look at things differently that allowed me to take what I would have previously considered huge risks. After successfully getting a big promotion, Kelby has continued to help me build my leadership skills so that I can effectively motivate myself to perform at high levels. I highly recommend Kelby if you're considering getting a coach.

Ecommerce Manager
My startup was growing but I still felt like we were underperforming. Our team had doubled in size in the past year, but it felt like I was losing control. Kelby helped me get a really clear understanding of my changing role as a leader through the different growth stages at my company. One of the most important things he did was work with my leadership team and create a much greater sense of alignment so it felt like we were all working together, rather than in our own separate silos. One thing I've noticed is that there's a much stronger sense of motivation throughout our company, and results have been better than ever. I've recommended Kelby to a few close friends and continue to hire him for a few projects as needed. He's become a trusted advisor on our team.

Joe - Founder & CEO
I didn't know what I was missing before I started coaching with Kelby. I was doing all the right things and had gotten a few promotions earlier on in my career, but then it just felt like I had gotten passed over a few too many times. Kelby took the time to really understand me, and more importantly he challenged me to set even higher goals for myself. I ended up deciding that I needed to switch companies, and he helped me prepare for the interview process. I realized I had some negative self-talk that was getting in my way, and he helped me explore different options. Ultimately, he was with me every step of the way and thanks to him I got a VP level role at a new company; with a 40% salary jump! I highly reccomend working with Kelby.

VP, Engineering