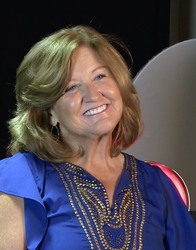 Kelly Gallagher

Plano, Texas
Executive Coach, Business Coach, Performance Coach
MBA, MS Organizational Behavior
I coach motivated, visionary executives, entrepreneurs and professionals to fine-tune leadership, recognize and leverage strengths, manage their careers and images. 30+ years of business success.
About Me
Coaching is a gentle conversation that demolishes the barriers that stop us; and builds in us the capacity to do what we hadn't thought possible. We work together towards your chosen goals, distinguish what's holding you back, develop new behaviors, and gain clarity. As an ICF credentialed master coach I have years of training, all designed around providing the clarity needed to ensure the best possible outcome for my clients.
I work with:
High potential leaders in development to the next level
Technical managers to transform into business leaders
Entrepreneurs
Career assessment
Communication
Business Development
Executives who have been recently hired or promoted and need to make an immediate impact

The benefits of Executive Coaching include:
Enhanced performance and increased productivity
Attracting talent and boosting morale
Increasing self-awareness and confidence
Leveraging and building new behaviors and competencies
Accelerating career growth

Leaders reporting the most success from my executive coaching are:

Motivated leaders ready to learn, and gain self-awareness.
Leaders ready to develop their people.
Leaders in large matrixed, complex structures.
Leaders who want to take on greater responsibility and accelerate their careers.
Entrepreneurs and founders who realize that their leadership effectiveness will make or break their company's success and are ready to do the personal change work.
Let's connect for a complimentary consultation.
In our time together we could explore your goals and I'll coach you briefly so that we can get to know one another.
Then, if you'd like to continue coaching I will customize a package specifically to your needs. If the fit is not there, I have a network of many experienced coaches and can give you some other referrals.
Reviews
7 reviews (5.0)
Kelly is a consistently tenacious and hardworking executive. She is always strategic in her thinking regarding business development and is a great resource in training and development of our sales team.

Shelly Carolan Sector Leader, Healthcare and Life Sciences at Korn Ferry
Kelly brings a maturity to the coaching table that adds great value to the process. She cares about her clients and approaches them with refreshing authenticity. Her questions are astute and probing and her style of communication is direct. Kelly's enthusiasm and get-it-done attitude is infectious. As a Caribbean person dealing with a Texan, I have never felt that there was a cultural gap between us. Her curiosity is the perfect bridge. In her support and active challenge of my goals, Kelly has not only provided slats across the bridge, but become a friend - walking at my side.

Lisa Chamely-Aqui, M.Sc. PCC Principal Consultant/Executive Coach at LCA Partnerships, LLC
It was a pleasure to work with Kelly as my Mentor coach. Kelly's coaching was invaluable as she helped me to establish my executive coach practice. Kelly was incredibly skilled at asking the tough questions that helped me see things from different perspectives, and she then held me accountable for achieving my goals. Kelly is not only challenging and insightful, but also patient and understanding, with remarkable instincts and knowledge. I feel privileged to have her as my Mentor coach.

Golnaz Farazi, ACC Executive Coach at Dynamic Changemaker
Kelly's consultative approach to selling and her persistence at delivering the value of NMS Labs to our customers and prospects is a differentiator in itself. Kelly is bright, persistent and has an extremely professional disposition that continues to serve her well in driving results. She is effective in negotiating with all levels of any C-Suite. Kelly started at the same time that I did and has continued to impress me with her keen ability to identify and go after the high potential prospects. She is truly balanced between a strong upsell, professionalism and the ultimate of the hunter.

Julie Ruth, Marketing Director
I have failed at many attempts to run a coaching business. I was about to give up before I began working with Kelly Gallagher. Even though I adored the coaching profession and my clients kept repeatedly telling me about the good results they were getting, I simply wasn't good at business itself. I was a trained coach, after all, not a trained businesswoman and salesperson. Trying to have a coaching business with little to no business experience can be a recipe for disaster. I'm really glad I met Kelly or I might not still be in business. Kelly taught me consultative selling, how to package my coaching offerings, and how to approach potential clients. She also helped me to get out of my own way. As a perfectionist, I felt insecure and I'd spent long periods of time in isolation trying to make things just so before I showed them to anyone else. I was creating in a vacuum and working way too hard! Kelly convinced me to just go out there and try things. As a result, I have a much clearer focus than before and I've developed a business acumen that I would not have had without her guidance. There is a well-known gap between coaching certifications and actual business expertise, and it's painful to see. Kelly addresses this need. I highly recommend Kelly to anyone who loves coaching but wants to increase her knowledge (and confidence) about how to actually make money at a coaching business. I'm will forever be grateful for having worked with Kelly. Not only has it been a joy to work with her, but my business is running much better as a result.

Debra Payne, Business Owner
Working with Kelly in her 90 Minutes to Success business development program has benefited me in three key areas: 1. I found clarity around what and who I wanted to coach. Kelly assisted me with developing my niche and defining my ideal client. 2. I discovered options for presenting my service offerings. Kelly changed my focus from hourly rates to solution bundles. 3. I gained understanding around developing my brand. Kelly guided me into incorporating my coaching and non-coaching skills to authentically present myself and my offerings. I continue being coached by Kelly and participating in 90 Minutes to Success because of her great coaching being bolstered by her successful selling background!

Eric D Coy, business owner
Kelly has been my coach for over a year now and I value each conversation we have. She's always in the moment with me, asking powerful questions to help me get to crystal clarity and I appreciate so much her positivity and enthusiasm. She's walked with me from confusion and fog to clarity and purpose and focus and I'm excited to have her in my world. Can't recommend her highly enough.

Cory Miller, CEO