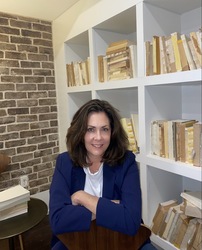 Kerin Sullivan

Charleston, South Carolina
ADD ADHD Coach, Career Coach, Life Coach
MS, AOGPE
If you are an adult or young adult struggling with ADD/ADHD or Dyslexia you are my ideal client. We will work together to discover your root causes of distraction and many new solutions!
About Me
ADD and ADHD is often it is a hidden secret and a source of shame. This troubles me and it is my goal to empower anyone that has felt held back.
I help my clients to find DREAM jobs and to overcome any fears related to hiding disabilities. I will take you through a process of understanding your own profile, and then take steps to make changes so that you have resources, accommodations, and support. I won't let you quit on yourself. Together we will actively make a plan to reach your goals with humor and by taking immediate action.
Reviews
5 reviews (4.8)
I love Kerin! Kerin is a super fun, positive, and very fair handed person that will listen to you but will not take BS, she will catch the loop and make you figure it out. We have done many many sessions and she has helped me see, move, think and feel though a rather varied array of life aspects. Although Kerin is not a therapist she has helped me talk some things out regardless of the load being shared. I still have a lot of work ahead of me, and it has been a great start! Her experience has provided me (a person with ADHD distractive type) with constant reassurance, validation, motivation, time for self-checking, reflection, tangible tools, tricks, important advising, and lots of fun.

Ramiro
Kerin was fantastic to work with. She provided me with the support and skills I needed to feel confident in the workplace. Thank you, Kerin!

Alex L.
After leaving school, and entering the workforce, I was really lacking the confidence I needed to be successful. In a very short amount of time Kerrin was able to pin point and zone in on our focus areas and she truly helped support me in my career journey. I would honestly recommend this service to anyone who is looking for someone to help you every step of the way and even after the service is over. Thank you so much!!

Rachel B.
Anonymous
Kerin was super informative and responsive as my coach when I was seeking a promotion. When questions came up, she had good insight and suggestions on how to present the information in a more concise way. She helped me to organize my thoughts onto paper and pushed me to take the next step and to feel more confident about my professional skills and job experience. When I worked with her I felt like there is no way I will not succeed, and I truly believe I may not have gotten that promotion without her help.

Kevin