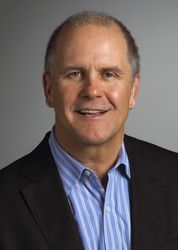 Kevin Dunal

Toronto, Ontario
Executive Coach, Leadership Coach, Business Coach
BID, VIA Signature Strength, EQ Cert (Six Seconds profile tools), Founding Fellow Institute of Coaching, McLean Hospital, Harvard Medical Affiliate
Start ups to fortune 500. Helping business leaders and individuals execute and over achieve. A trusted, compassionate advisor with a strong set of tools to bring about significant change.
About Me
Kevin Dunal Launch Center Inc, the Toronto-based performance/culture consultancy, to change how the world works. Launch Center believes that organizations are essentially human. That fundamentally every positive (and negative) in an organization — from engagement to innovation to profits — can be traced to an organization's culture.
Kevin brings 25 years of business experience to his work today as a leadership consultant and executive coach. Formal education as an Industrial Designer coupled with a focus on performance through sports coaching at an international level has heavily influenced his skill set.
Dunal has America's VP positions at Adobe, Alias and Autodesk; CEO roles at tech start-ups; and global strategic planning at Fortune 500 companies. Kevin is an executive coach trained by Adler/OISE, University of Toronto; a preferred partner in emotional intelligence training with Six Seconds, a Founding Fellow of the Institute of Coaching, at McLean Hospital, a Harvard Medical School Affiliate; and has lectured on creativity and innovation at design schools internationally.
Reviews
3 reviews (1 verified) (5.0)
Kevin showed huge empathy. :)

Sanjay Arora
I had the pleasure of working with Kevin at both Varrative and Alias/Autodesk. Having seen him lead the North American sales team at Alias/Autodesk and watching him build an organization from the ground up at Varrative, I can tell you that Kevin is devoted to driving winning cultures, and has a knack for building great teams. Kevin demands a focus on great customer experiences and and investment in customer success from all of his team members. Kevin also makes a significant investment in the development of his team, personally coaching and mentoring his staff to achieving their full potential. The attention to both customer and employee success has resulted over the years in several overachieving sales organizations and measurable and consistent business successes. On a more personal note, Kevin really cares about the people he works with; whether he is dealing with colleagues, partners or customers, he brings a sincerity and integrity to the relationship which makes working with him a real joy.

Chrysoulla, VP of Operations, Toronto Canada
I have worked with Kevin, for Kevin, and in different supporting roles alongside him, over many years. I have evolved from an automotive designer, industry marketing, business consulting, to serving on his leadership team as a Head of Sales. However, his most influential role in my professional career has been that of a mentor. Kevin is, at his core, a brilliant mind. His understanding of the human condition - behaviours, motivations, values - are only equalled by his capacity to help put them in motion for the betterment of clients and the business at hand. When working with Kevin during out time at Alias/Autodesk and then again at our start-up venture, he provided direct yet nuanced leadership and guidance that made the effort as much learning and growth as it was strategic direction for the business. As a mentor, I have turned to Kevin throughout our 12-year friendship for sage advice on career, personal concerns, and everything in between. He listens; thoughtfully and holistically, and then offers not advice but questions. All of which helps you find your path out of or into that which you seek. As leadership, communication, poise, and grace are concerned; Kevin earns a spot as one of my most trusted colleagues and mentors.

Drew, VP of Sales, Detroit, Michigan