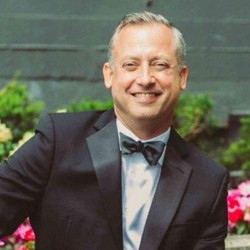 Kevin Jones

Dallas, Texas
Executive Coach, Business Coach, Leadership Coach
GPHR
I coach mid to senior-level executives, with a non-exclusive focus on the LGBTQ community. I help them challenge beliefs and address fears that keep them from being an authentic, inspiring leader.
About Me
I'm an Associate Certified Coach, credentialed through the International Coaching Federation. I understand the challenges of balancing the complexities of the business world with growing as a professional to lead through these complexities.
I am a gay man who has navigated the complexities of bringing my full self to work in a corporate environment while growing in my professional career. I am compassionately curious. I dig into discomfort, that messy middle of a coaching relationship where things start to get real. I love conversations that originate from a state of wonderment: wonderment that this person trusts me, wonderment at their journey that brought them to this point, and wonderment at the mystery that lies ahead on the work that we will do together.
I believe that everyone deserves to hold hope for an inspired future, where they get out of bed every day full of passion in knowing that today they will do what they love, and do it well. I love helping others discover and bring this passion into action.
I am certified as a TRACOM social styles instructor. I speak fluent French and enjoy throwing pottery in my spare time. I've written a novel about how a dog spends his time after he crosses Rainbow Bridge while waiting for his person, and I hope it might be published someday. However, even if it isn't, the simple process of writing and seeing the characters come to life and live out their story was one of the most amazing journeys of my life.
My husband and I have two Boston Terriers, which keep us busy and active if you know anything about Bostons! I gradudated from Baylor University, and completed post-graduate studies at the Université de Strasbourg.
Reviews
Kevin doesn't have any reviews yet.