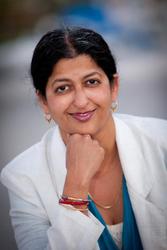 Keya Murthy

Ventura, California
Life Coach, Spirituality Coach, Relationship Coach
BS, MS, CHt,Handwriting Analyst,NLP Trainer,Imagery Therapist, EFT Practitioner,Reiki Master,Time Line Therapist, Huna practitioner
I work with people seeking peace and prosperity. I help them release negative emotions, find forgiveness, self-acceptance and self-love so they can enhance their career, relationships and health.
Details

Ventura, California 93003
Gender: Female
About Me
Are you struggling:
* at your work or with your career?
* with your health? menopause?
* loss of a loved one? or pet? empty nest?
* change in a relationship?
* frustrations? sorrow? fear? guilt? resentment? anger? hurt? trauma? regrets?
You do the best you can and yet the results you get do not justify your efforts. True?
If you have answered YES to even one question then I can help. I encourage you to visit my website and fill out the Coaching Interview Application to qualify for a FREE Discovery Session. In this session you will:
* Gain sense of clarity about the Ideal Life you want
* Find out building blocks to create your Ideal life
* Discover #1 thing stopping you from your Ideal Life
* Identify powerful actions to create your desired life
* Know exactly what to do to create YOUR Ideal Life!
My diverse background is the foundation for the wide range of services that I offer to my clients. From practical skills to spiritual connection, you can approach your development with a grounded perspective that incorporates all levels of being so that you create magical results in your daily life.
A formal study of material sciences set me on the path to a successful career as a software programmer in India and later in the USA.
When I realized how little of my brain capacity we use (even geniuses use only 10%), I became fascinated with the subconscious mind and how it can serve us.
As a programmer, and knowing that the language of the mind dictates our external realities, I was drawn to Neuro Linguistic Programming (NLP). Once on the path to unlocking the secrets of the mind, I discovered and trained in Clinical Hypnotherapy, Time Line Therapy, handwriting analysis, Emotional Freedom Technique, and Guided Imagery. My continued studies in energy medicine allows me to help my clients find healing, and experience success everyday in all aspects of their live.
I am grateful to live in Southern California. I serve my clients in person, via phone and skype.
Reviews
10 reviews (5.0)
"Having goals or dreams in life is easy, anyone can have them; however, getting to those goals or accomplishing those dreams is usually or in most cases almost impossible. Why? Because people do not have a mentor or guide that keeps them focused or in track with the steps needed to get where they want to be. Keya has been my mentor and guide to accomplishing some of my dreams and goals in life! Listening to her wisdom, and most importantly experiencing compassion is what I love the most about Keya. Knowing that I have someone that is watching over me by keeping me accountable for what I do and say is what has given me the confidence in myself and in Keya's service. Thank you Keya for being who you are, a great mentor and wise soul in my life!! Love, Juliana"

Juliana R, Santa Barbara, CA
"Keya is very astute and cuts right to the chase. Whatever your goal is in coming to work with her, she will help facilitate your ability to identify it and break it down into a holistic plan for success. Thank you for your caring and wisdom!"

Rachel, Boston, MA
"Coach Keya is a skilled life coach, counselor and hypnotherapist. She can easily guide you to find the answers within, while giving you the tools and skills to be able to tap into your personal happiness. She is caring yet straight forward so you can easily make breakthroughs. if you're struggling with any aspect of your life. I highly recommend a working with Coach K so you can discover how to tap into your happiness, peace and prosperity. "

MG, Oxnard, CA
"Keya is an amazing person who is able to be a consummate professional but still maintain a sense of humor at the same time. I have had the privilege of working with her. I hope you get the chance too."

Erick R, Seattle, WA
"Working with Keya has brought so much more clarity and balanceinto my life. I am now able to learn to love myself more and more everyday. Her wisdom and guidance has encouraged me to become a better person everyday."

Melissa G, San Diego, CA
I had a wonderful experience working with Keya. She is to the point and assisted me through a difficult transition in life. She is relatable and has a range of skills and tools to teach others :)

Kayla T., Freemont CA
"I am so happy to have found Keya because in the few months that I have worked with her, she has helped me tremendously to overcome career and time management issues, to set boundaries, and to achieve my goals by being more assertive and standing up for myself. She has also helped me to deal with issues relating to my physical health, which I am extremely grateful for. I would say that in the past three or four months of visiting Keya's office that my overall happiness and physical well-being have improved around 90 percent. I also feel that I have more self-esteem and confidence at work and feel that I am truly developing what it takes to attain my goals both personally and professionally. One of Keya's assignments was to visualize strongly that which I desire to manifest in my life and to write about it using very specific details. After doing this, I feel much more confident that this desired outcome –or at least something very similar to it– will eventually transpire at the right time and in the right manner. I cannot express how thankful I am for all of this. "

Amber W., Malibu, CA
"I have been working with Keya, she's wonderful. She extracts the elements of your life to give attention to, and helps in profound ways to shift those that you want to shift. It feels so natural and organic, while at the same time fundamental and groundbreaking. I do feel a shift in my thinking, and more peace in relation to issues that had been causing much stress. Highly recommend!"

-Melanie M., Santa Barbara, CA
"Coach Keya has the gift of enlightenment and sharing. She shares her gifts to annoint others with the vision and action plan for attainable results. Coach Keya made me lose my fear of dreaming because I left like my dreams can actually become a reality. She is a gift and I recommend everyone seek her coaching in order to help attain your goals in business, health and love."

– Brenda A., Ventura CA
"Since I have been working with Keya and availing of her healing and hypnosis services, it 's been easier to talk to people. I feel I have more energy to do the things I like to do and am more committed I feel more at peace regardless of whatever the situation may be."

- Efrain L, Oxnard California
The Smart Way To Find A Coach

1 Describe Your Goals

2 Get Matched

3 Free Consultations
Find My Ideal Coach Now