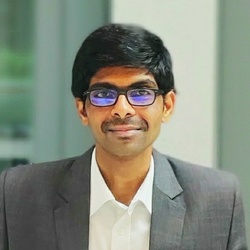 Kharrthikheyan T N

Chennai, Tamil Nadu
Leadership Coach, Career Coach, Life Coach
B.Tech, MBA, Professional Certified Coach, Certified Conscious Business Coach
I coach passionate leaders, managers and professionals to excel and grow in their current careers or transition to a new career, while leading a happy balanced fulfilled life.
About Me
Are you in a well-paid job but not satisfied with your career? Are you frustrated about not making an impact?
Do you feel constrained that your talents are not utilized? Do you feel overwhelmed and have difficulty maintaining balance in your life?
Are you afraid of becoming irrelevant?
Do you want to know what's holding you back? Are you stressed about difficult conversations? Does your emotions get the better of you?
Are you challenged to motivate and influence stakeholders? Do you want to be a better leader?
If any of the above relates to you, I am there to help you as a coach.
I coach ambitious leaders, managers and professionals to consciously lead with clarity, direction and purpose. "When we bring our true whole self to every sphere of life, we flourish and thrive".
With a whole person approach to coaching, I partner with my clients through a customized coaching program to gain clarity, find direction and make meaningful impact in their careers and lives.
As a Professional certified coach from the International Coaching Federation with 6+ years of coaching expertise and 12+ years of corporate experience, I combine the nuances of neuroscience, mindfulness and positive psychology to help my clients take steps to overcome what is holding them back, leverage their strengths and achieve the goals that they desire.
As a certified conscious business coach and an experienced global people development leader, I help my clients be a better leader in their own lives and also inspire others.
Finding meaning and being happy have been an integral part of my living. What gives me fulfillment is the opportunity to combine my passion, strengths and expertise to help my clients move ahead, excel and find meaning in their careers and also lead happy fulfilled lives.
Reviews
6 reviews (4.67)
I am pleased to write about Mr Kharrthik, who is a professional coach, super-capable, to read his client's coaching needs. He is very much aware of his business, and he adopts the techniques to reveal the hidden qualities of his clients. I am delighted to have him as a coach, who guided me to reveal my personality and help me to take appropriate actions for addressing the weaknesses of my nature. If I get the opportunity, I will again work with him and would like to recommend him as a fine coach.

Md. Nahid Hasan Raju
It was a great experience to be coached by Kharrthikheyan. I reached out to him through a coaching network. His ability to probe and help me arrive at my problem statement's root causes was amazing. Although it was my first time experience, i was able to establish a rapport easily and build trust for sharing, given his persona and warmth. The coaching conversation was effective in helping me derive an action plan from where we started off without even realizing this. The transparency & communication style adopted by him was very helpful. After the formal coaching was completed, Kharthik kept in touch to follow-up on my action plans and progress in my development journey. Overall, the experience was rewarding for me.

Rosmin Paul
Kharrthik has supported me to achieve my business goals through the coaching process. There are so many private and business goals I pursue, that it is very difficult to take time and "think through" problems and define the vision clearly. The coaching process over several month with Kharrthik has helped me gain more clarity of my goals and provided me with the very much needed thought process to solve a few critical problems in my life. He is a great listener and will ask you some questions you have not thought of before.

Isabelle Hasleder
I had a very positive coaching experience with Mr Kharrthikheyan. The key benefit I received was getting the direction and clarity on what I want to achieve in my life (my goal) and how I need to align the teams towards the vision of the organisation so that all teams works as ONE. The support and regular followups I received from Mr Kharrthikheyan was exceptional and this made me work on the actions which I set for myself as well as showed me the power of coaching, which I will be exploring further with his support. He is a very gentle and kind person and this makes the coaching journey very pleasant and you feel encouraged to take action.

G S Grewal
My experience with Mr. Kharrthikheyan on the coaching is very positive. He has not only eye for details but also the heart and soul for his work. His subtle way of making you understand is one unique thing which I appreciate very much. His coaching became an eye-opener for me in understanding my strengths and challenges. This has changed my way of thinking a lot! I wish Kharthik all the way in his endeavor as a Coach!!

Srividya v
I wasnt happy with work except being 'senior most developer' in the team...in most of my discussions it would come out.. cribbing about the uneasiness... taken couple of coaching session but had taken limited actions. During May to November 2019 my coach helped me to see clearly and to set goals, plan well and act appropriately. Things started to fall in place and here i am now with a new role...his empathy really helped Thank You coach Kharrthikheyan TN(Karthik). I am now more pleased with my employment ..thats a big relief. Our conversations and your prudent questioning made this happen. You helped me to understand my strengths and to build on those and helped me to have clarity on my vision...I am moving ahead in that direction with peace and ease...Thanks a Ton

Soundar Subramanian