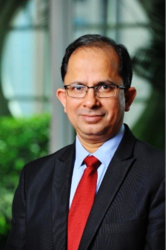 KINGSHUK GANGULY

Mumbai, Maharashtra
Executive Coach, Relationship Coach, Life Coach
Fellow Member, Institute Of Coaching at McLean Hospital, Harvard Medical School Affiliate, (Certified on MBTI, HOGAN's, Workplace Big 5, PAPI, BELBIN)
I work with Senior Executives across India, APAC, Europe and the USA. I help them achieve a balance between what they know, what they do, how they do and how they are perceived. With empathy.
About Me
Dear Reader,
I am based in Mumbai (India) and I work with clients in 15+ countries.
I am an Electrical Engineer and MBA (Finance), with 25+ years experience, working with corporations like L&T, GE Capital, Fidelity Investments.
In my last role, I was Global Head of Learning & Organisation Development at CRISIL (a S&P Global Company), serving 4000 employees in 8 countries.
While I have a Business background, I have been in love with helping people reach for their aspirations over the years, and this has brought me to Coaching.
I enjoy partnering in the exploration process of reaching a goal - how it starts with a dream / aspiration / dissatisfaction with the current state, how it is possible to shape it into a goal, how do we get energised with the visual imagery of the aspired future, and how we go about the logical steps.
There are times, when we meander, when we feel disheartened, sometimes overwhelmed. And, the energy and fun is in not giving up.
As your 4AM friend, you will notice that, while I will always listen and be supportive, I will not give you advice. My belief is - YOU ALWAYS, WILL FIGURE IT OUT. My role, I believe, is to create the confidence and enthusiasm in you, that you can achieve your goals.
In between sessions, I will support you with videos and reading material, that will strengthen what we have discussed, so that you get a holistic understanding.
I am certified on multiple psychometric instruments (MBTI, HOGAN's, PAPI, Workplace Big 5 ++), which I bring in based on your permission, so that you get better insights and clarity.
I am a volunteer with Organisation for Rare Diseases in India (ORDI), because it is a cause I believe in. In our conversation, you may find your `CAUSE' !
In the past, one client who is an MBA from a top US School, found his calling in 4 sessions. Another client, found her clarity in 3 days.
When you speak with me, you can expect miracles. And, miracles do not need HARD WORK. They just need LETTING GO.
Reviews
6 reviews (5.0)
Had the pleasure to be coached and more so mentored by Kingshuk during my stint at CRISIL. He is highly approachable, welcoming and comforting. His level of commitment to mentor and pull up the person rightly is boundless. He is highly patient, empathetic, and a listener. I see him as a mentor who had always guided me towards the positive side and in shaping me up to become a solution oriented individual for self.

Debjani Deb Roy
In less than 3 months, Kingshuk's coaching has helped me identify and implement new strategies that allowed me to support my executive team better. Kingshuk has increased my ability to feel positive no matter how hard a day can is! He provides great insight and his passion is evident in every session. I highly recommend Kingshuk's leadership and executive coaching services.

Shravya
KG, is one of the best coaches i have met. He is humble, understanding and very focused . Sessions with KG helped me declutter my mind and set my goalls and in the process i saw him as a friend and mentor.

Vani
My association with Kingshuk started in 2016 as I moved into a new role in a new country then. My interactions with Kingshuk helped me in more ways than one. I gained more clarity on my thoughts, acted more deliberately and became more accountable for my actions and results. He had a unique ability to help me help myself is the way I remember him. We have been colleagues and friends and I have never hesitated to discuss and get clarity on a wide variety of issues. Would very strongly and highly recommend him as a coach!

Siddharth Arora Sid
It was a fruitful experience having Kingshuk as a coach. Kingshuk excels in putting people at ease and helping them identify their key priorities and moving forward towards achieving them. His biggest strength lies in asking a great set of questions that helps you introspect more deeply. He is great at acknowledging your small wins and to keep nudging you forward. He never lets you feel judged which helps in having frank and fruitful discussions.

Mitul Doshi
Kingshuk is an excellent coach, with great skills in all departments. You need him in your corner every time, only high marks!

Amrit Shahani - Director - Coalition