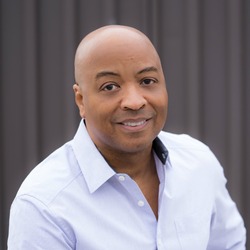 Kirkland King

Austin, Texas
Life Coach, Relationship Coach, Health and Fitness Coach
Certified Professional Coach (CCE)
Feeling confused, unfocused or directionless? Whether you want to get unstuck, improve work-life balance, or find joy, with my "Pathways To Possibility Program" you won't have to go it alone anymore
Details

Austin, Texas 78738
Hourly Rate: $125 to $250 US Dollars
Gender: Male
About Me
I coach individuals who are unclear about their direction, feel stuck in life, career or relationships. Are you feeling unsuccessful, struggling to become the person you once were or think you should be? Do you feel you could be stronger and more confident? Are you missing joy and fulfillment in life?
It doesn't have to be that way, you can have it all, a successful career, a great relationship, joy, fulfillment and clear direction in life. The reason you don't have all these things now is that you've prioritized and created possibility in your life. You've put your needs last, you aren't taking the best care of yourself.
This is where my coaching comes in, my "Pathways To Possibility Program" is all about you creating possibilities for your life. We start by looking at what really matters to you in all aspects of your life, then systematically prioritize which ones matter most, create possibilities and figure out pathways to bring them to fruition.
My clients constantly tell me they feel a confidence and joy they've never experienced before. A satisfaction that comes from knowing where their life is headed and how it's gonna get there. They experience the calming influence of knowing what truly matters in their life and the clear understanding that it's all in the possibilities they create. After working through my program they've developed skills to create the pathway to what is truly important in their lives.
My process is grounded in real life experience. I'm a Life Skills, Relationship and Health Specialist, I've over 28 years of marriage and parenting experience, coaching for over 10 years, with formal training certified by the International Coach Federation. I know about the ups and downs of life, love, career change, and relationships. I'm also the Founder of LuvSparx, the smart "Intimate Connection App" for couples.
The answers you seek are within reach, I'll help you find them.
I do a free 20 min discovery session, call today to get started.
Reviews
8 reviews (5.0)
I tried coaching because I felt stuck, I had no clear direction in life and I hated my job. From our first meeting Kirkland really made me think about what it was I wanted to do, structuring my goals in a way that I'd never thought of before, helping me focus on the things that really mattered to me and how I could achieve them. Ultimately helping identify the right job that fits my passion. The weekly sessions reignited my dwindling self-belief and a hunger that inspired me to get back on track and find the job I wanted. I had decided to change my career path completely, which in itself was totally overwhelming. The fact was that I simply didn't know what to do or how to go about doing it. Kirkland's Pathway to Possibility approach was a massive help in my process. I've transitioned into a job I'm passionate about and everyday I create new possibilities for my life. This is living!

Timothy H, Austin, TX, Entrepreneur
Before I signed up for Kirklands 12 session Structure Package, I was in poor health and I got very little done. I have ADD, I was so unorganized and confused had become a rather negative person. As a result of the coaching with Kirkland I have been able to become more organised, my production is up and I have a new positive outlook. I still deal with ADD, but one simple technique Kirkland shared with me, makes dealing with it much better. I've severely cut down my alcohol intake and I exercise more. These changes have had a major impact on my life, relationship and the people around me. When I start the next project in my life I will definitely be giving Kirkland a call. It was cheaper than a gym membership and provided much more benefit.

Stephen P, Salt Lake City UT, IT Director, Amazon
Before I started sessions with Kirkland I was stuck and my work-life balance was way off. Kirkland has an upbeat manner and is very positive. It was great to look at my life holistically and then drill down on the areas that I really wanted to improve. I found that the sessions were a pleasurable experience. Each one provided lots of positive reinforcement and a framework to help me identify the changes I wanted to make. Kirklands coaching has enabled me to transform my life, I've discovered my true passion and have launched a new business that has sales in excess of 1 million in the first year. I have balance and I will be forever grateful to him."

Zac S, Manhattan, NY, Art Dealer
I contacted Kirkland after taking time off work due to work stress which had severely incapacitated me to a point that I was unable to think clearly. Kirkland he helped me to organise my thought with the questions that he brought to our meetings. I have worked with Kirkland for 5 months now, he's helped me to re-evaluate what is important to me and whether I am willing to make the sacrifices needed to achieve what I wished to do with my working life. I always look forward to sessions with Kirkland as he has such an easy to get along with personality and his sessions are always informative. He offers me lots of support during difficult periods in my life. His positive attitude helped me return to work, resign and seek alternative employment, which has greatly improved my quality of life. I continue to work towards the goals that we discuss. With his Pathway to Possibility approach and emotional support, Kirkland helps me to make sensible practical decisions as to how to move forward with my life. "Thank you Coach."

Susan Chen, Encino, CA, Media Graphics Developer, Disney
I was unhappy, constantly being pulled down by repetitive negative thoughts and beliefs about myself and others. My 15-year marriage was in shambles. My husband contacted Kirkland who offered us coaching using his Pathway to Possibility Program. We each made a 12 session commitment to create a conscious partnership. The great part of the weekly coaching sessions was getting to know my true self, moving beyond my old wounds and learning my husband's true emotional needs. I felt totally safe telling Kirkland everything and never once felt judged. That negative inner voice has quieted down and I successfully use my new relationship skills to have fun and handle challenging situations. I am extraordinarily pleased with the results I have achieved working with Kirkland. His commitment, guidance and personal experience has given us a chance to love and care for ourselves and others authenticity. Kirkland gets our highest recommendation as a relationship coach.

Kimi & Daniel W, Roanoke, VA, Married
I was fortunate enough to have been introduced to Kirkland King by a friend. Before doing coaching with Kirkland, I had a low opinion about my sexiness and desirability as a woman. Kirkland has been extremely influential in changing my belief about myself and what it means to be a woman. What an incredible gift he has given me. I am a confident business owner with lots of success in my background but I always doubted myself as far as my sexuality. I am good at being a giver but not so good at being a receiver. Kirkland has worked with me to rid myself of that doubt and fear. Every session, I feel that I am becoming more of the sensual goddess I was meant to be. His Pathway to Possibility Program works so easily if you're willing to shift your way of thinking or as he says, rewire your programming. I have been able to move from my old way of thinking, to beautiful heartfelt feminine mindset – what a huge shift for me. I look at myself now with caring and loving eyes and know that I am sexy!

Cynthia L, Cedar Park, TX, Business Owner
Before I started working with Kirkland I was headed for divorce. I want to thank you Kirkland, for your professional and compassionate help. My husband and I were having trouble in our relationship and didn't know how move forward to rekindle the intimacy. Your Pathway to Possibility Program was a huge transformational experience for us…. it was insightful and healing and life changing. I find new inspiration everyday and feel like a weight has been lifted of my back. I have new hope for us, our love feels renewed and our relationship is working better everyday.

Jessica M, Dallas TX, Consumer Relations Manager, Southwest Airlines
I can't thank Kirkland enough for the help he has given me in dealing with some quite tricky issues with both my husband and my children. Before I met with Kirkland my past was totally destroying my future. Since speaking with him, my outlook on life and the ability to deal with the past and the future has been completely transformed. Sounds over the top, but until you have spoken to him, you will never know how good things can be for you! If you are honest with him and honest with yourself, no matter how big or small your problems are, Kirkland will get to the bottom of it and you will be given the tools to move on with a much happier, healthier and exciting life. I cannot recommend him enough. Thank you Coach Kirk!

Susan T, Sherman Oaks CA, Chef, PF Changs
The Smart Way To Find A Coach

1 Describe Your Goals

2 Get Matched

3 Free Consultations
Find My Ideal Coach Now