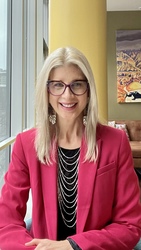 Kirsten Johansen

New York, New York
Life Coach, Leadership Coach, Health and Fitness Coach
BA, MBA
I guide high-achievers to find unconditional love and compassion for themselves, quiet their inner critic, break stubborn patterns that cause them suffering, and free themselves to live their dreams.
About Me
You are a smart, successful, high-achiever. You set high standards for yourself, and push yourself to always meet them. With each accomplishment, you experience a brief period of satisfaction that quickly gives way to setting even higher expectations. You are driven to work harder, do more and be better. Others are used to your high performance and expect it from you. You cannot let up on yourself. You cope with the stress in ways that cause you to suffer and feel bad about yourself, and are having trouble breaking these unhealthy habits. You have reached or surpassed the midpoint of your life and you don't want to keep living this way. You want peace, health and happiness. There is a path to the life you deserve and desire. An experienced guide can make all the difference. I am just that. I've been where you are. I'm living proof that we have the power to transform ourselves and our lives from the inside out and realize our dreams.
As a resilient survivor of many of life's challenges, I've developed an approach that centers your beliefs about yourself, and the development of unconditional positive regard for yourself, to get to the source of the stubborn thought, feeling and behavior patterns that cause you suffering and keep you from living your happiest and most authentic life. I use the tools, strategies, and practices that lead to sustained change in my own life. I have direct experience with addiction, disordered eating, body dysmorphia, metastatic cancer, radiation disease, inflammatory bowel disease, infertility, trauma, anxiety, depression, narcissistic relationships, divorce, perfectionism, career changes and advancement, and major life changes to achieve your dreams.
My formal education includes an MBA, BA in Sociology/Psychology, 12 years as a Chemical Dependency and Relapse Prevention Specialist, and 30 years of progressive and continuous adult learning in communication, leadership, supervision, coaching, mentoring and change management.
Reviews
Kirsten doesn't have any reviews yet.