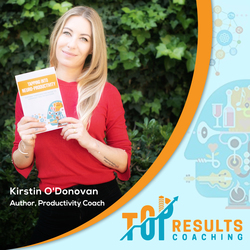 Kirstin ODonovan

Palma, Balearic Islands
Performance Coach, Entrepreneurship Coach, Business Coach
Tony Robbins Coaching Academy, Core100, Certified Business Coach (CBC), NLP Practitioner (Neuro Linguistic Practitioner)
Kirstin O'Donovan is a productivity coach, founder of TopResultsCoaching. She works with entrepreneurs internationally to catapult them to the next level of success in their business & personal life
About Me
Kirstin O'Donovan is a productivity coach and founder of TopResultsCoaching. She works with entrepreneurs internationally to catapult them to the next level of success.
How you manage your time impacts your bottom line directly. Topresultscoaching arms entrepreneurs with the latest strategies to leverage productivity effectively in both your personal and business life. You will learn how to get organized, work less and earn more.
Put your energy and efforts in the right place and develop a mindset geared for success to get the business results you dream of. Topresultscoaching supports you in finally making the money and having the time you desire.
I hold various qualifications, certificates and credentials related to personal and business coaching. Tony Robbins Coaching Academy, Core100 Robbinsmadanes, (World Coach Institution (WCI) Certified Business coach (CBC) Professional Coaching, ACC Certification -IFC. American University of Neuro-Linguistic Programmers, US.)
I'm the author of 'Tapping into Neuro Productivity' and Co-Author of "The Confident Woman".
I also write for various international publications in small business and personal development such as lifehack.org and Addicted2Success.com
Reviews
13 reviews (5.0)
I got in contact with Kirstin 2 months ago, when i was completely lost and had no idea how to get out of a routine that I didnt like. I simply didnt know what I wanted in my professional life. The only thing I did know was that something had to change. Kirstin offered to help me find a new direction in my career. From day one Kirstin listened carefully and fairly quickly understood my situation. She gave me the feeling that I could trust her although this kind of coaching was completely new to me. With different conversations and a variety of exercises she got me to think in a different way about my career. Step by step we started to add the pieces together. And 2 months later I can say that, not only I finally know what I want, but I also have the confidence to make that strongly needed change. I want to thank Kirstin for her dedication and personal approach and would highly recommend her to anyone who needs professional guidance to work towards a more successful and enjoyable career .

Laida, Language Trainer, Barcelona
I have benefited from Kirstin in helping assess, the strengths and weaknesses towards career planning including professional development. I used to feel that my options for moving my professional career path forward was limited and experienced shifts in career planning as well as achieved important next steps in my career. After working with Kirstin I have balanced the attainment of immediate targets with long-term goals towards the vision of my profession. I know I can communicate my vision to Kirstin and be inspired including motivated. No longer do I feel that my career needs to be put on hold with the support there I need to drive it forward. Thank you for being there at a time of change that needed a personal touch to take the next step. I would recommend anyone to the highly competent coach Kirstin is in her field. Who communicates openly and encourages feedback, and has a clear idea of the vision-mission-goals of her client

Tony, Ireland
Kirstin has helped me to re-focus my aim in life. Kirstin helped me to find the power that I had within. I feel more confident to achieve my target, stay focused and follow my dream job. Her directions and support made this possible to re-ignite myself. I strongly recommend Kirstin who needs a fresh start, or simply put your life back on track. You will not be disappointed

Adil,Executive Relations Liaison, England
Before meeting Kirstin I wasn't sure about starting my own business. I was stuck in the process of endless planning and gathering information. But I couldn't start doing something. Immediately after our first session I understood how I should precede to realize my goal and started acting towards it. We worked on specific steps and milestones and Kirstin also helped me with her professional advices. Now after our coaching with Kirstin I really can say that I realized the goal of the coaching with success. I'm sure that this was due to Kirstin's coaching style: empowering and attentive at the same time. She listens to client's own wishes and leads to actions. In only three weeks I could understand what I will do in future and how I'm going to precede. She gave me motivation and helped me to feel powerful. So that I could finally stop planning and could begin acting. Thank you for that, Kirstin

Olga Azarkina
I would recommend Kirstin's services to anyone who would like to learn more about himself/herself. I used to have a blurred vision of what I would like to achieve and Kirstin helped me get back on track. Sessions with Kirstin were enlightening and productive. She seems to know her job perfectly well and she was able to make an accurate list of my needs and values in a very short time, which I wouldn't be able to do without her help. Kirstin, thank you for your patience and enthusiasm.

Julia Janicka, Poland
I highly recommend Kirstin to anyone experiencing a need to change something in life. I used to feel overwhelmed with the work I needed to do. Working with Kirstin I've learnt the new skills and techniques which are helping me now to focus on the positives and be more confident with my work. Thank you Kirstin for your enthusiasm, professionalism and wonderful observations!

Anna Kwasniak, Bulgaria
Initially I contacted Kirstin about personal challenges and roadblocks I had in my life. In the process we've covered everything in between. With Kirstin, she doesn't just solve your issues she helps you breakthrough. For me, she answered every question I've always asked and solved every situation I could think of. I've always been the person that likes the truth and I have to say hearing it from a life coach really gave me that push that I really needed. Kirstin is very supportive and informative. She is full of strategies and advice that work best for you. She helped me identify my challenges and gave me strategies to overcome them. Talking to her it has made me realize a lot of things and a lot of changes I needed but they were good ones. The ones I've always been scared of changing but finally hearing that it's normal and it's okay to do it has really given me that push. I've gained clarity on what I want to be, where I was going, and where I want to be and I can't thank you enough Kirstin because you really have changed my life. If you ever need a life coach that really knows what she's doing, she's right here.

Amy, Canada
Kirstin really helped me focus on what I needed to do next for my business. Being accountable to her was amazing motivation and she was direct and challenging and really enabled me to go ahead. While I was coaching with her, I had a new website designed, I got a PR campaign up and running and also managed to work really well in the area of finances which hadn't been good. I would recommend Kirstin to anyone!

Nikki, EFT Practitioner, London
I would highly recommend coaching with Kirstin, she is extremely insightful and has a wealth of knowledge to help you achieve what you want. She is motivating and inspiring and I am so thankful that I had the opportunity to work with her.

Sarah, Accountant, Texas
Working with Kirstin has been life-changing. I have learnt so much and developed tremendously personally. I would have paid five times more for the value that I have received.

Sam, Project Engineer, England
It has been fantastic working with Kirstin, she is a professional who I admire and respect. Without her I would never have achieved all I have.

Jennifer, Legal Assistant, Colorado Area
Coaching has made the most significant positive difference in my life. My self-confidence has increased and I feel better than I have in years. I have learnt so many things that I can effectively apply in my life to see results and I have a renewed energy for life

Peter, Sales Director, England
Kirstin is a very positive and intuitive person. She has helped me to overcome difficulties in very different aspects in my life. When I started working with her, I felt depressed, insecure and confused. I used to see everything negatively. Since my first session she has been an incredible help in my lifestyle. I would really recommend her to anyone for whatever reason, working or personal.

Maria, Office Manager, Spain