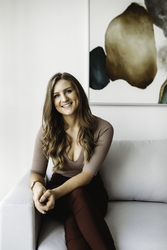 Kirsty McIntyre

Dubai, Dubai
Life Coach, Health and Fitness Coach
BS, Bsc (Honours) Open - Counselling & Approaches to Mental Health, Eating Freely Practitioner, NLP Master Practitioner, Co-Active Coach
I help people address emotional & binge eating. I offer a comprehensive, evidence-based program that combines coaching support and nutritional therapy to help you break free from emotional eating.
About Me
I began my career in the UAE as a Personal Trainer, working for a leading fitness brand. At the time, I provided clients with workouts and nutritional support but in reality, I had a very poor relationship with food and exercise. I had spent years being overly restrictive and experiencing guilt every time I went slightly 'off-plan'. This had caused me to have such a poor relationship with food that, when I allowed myself to eat what I wanted, I had zero control. I would overeat until I felt uncomfortable, guilty and ashamed. I spent many years stuck in this cycle where I would compensate for my binges by over-exercising or restricting food, all of which just damaged my relationship with food, my health and my self-confidence further.
I understand how much of an impact emotional eating, binge eating and restrictive behaviors can have on your everyday life and how much it can stand in the way of you reaching your goals. I now offer a comprehensive evidence-based program to help you break free from emotional eating and to move forward with your life.
If you would like support with this, I offer a complimentary discovery call to make sure the program is a good fit for you.
Credentials:
Eating Freely Practitioner
Bsc (Honours) Open - Counselling & Approaches to Mental Health
NLP Master Practitioner
Co-Active Life Coach
HND Fitness Health & Exercise
Reviews
2 reviews (1 verified) (5.0)
Kirsty is intuitive, a great listener and cares about the work she does. Thanks so much for your help!

Jason
I had been interested in starting with coaching sessions for a while so I was very happy to have met Kirsty and have such a positive experience. Not only she has a great attitude and positive take on life, she gave me practical tools throughout our sessions that truly helped me make the progress I needed in my personal & professional life. I can´t recommend Kirsty highly enough!

Claudia