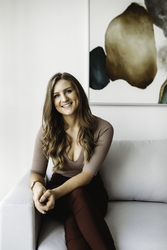 Kirsty McIntyre

Dubai, Dubai
Life Coach, Health and Fitness Coach, Career Coach
I help women find a better relationship with themselves and create the life they want. We work together to identify behavior patterns, coping mechanisms or negative beliefs which are holding you back.
About Me
I moved from Scotland to the UAE almost 9 years ago to work as a personal trainer for a leading fitness brand. I specialized in helping women achieve their fitness goals however, whilst I was helping others to live a healthier life, I felt extremely burned out from the constant pressure I was putting on myself. I was also struggling with a poor relationship with diet and over exercise.
My own journey began when I decided to see an NLP coach. I had worked my way to a position in Recreation Management for a global hotel chain and was feeling stuck with where my career was going and disappointed with how my personal relationships were turning out. The sessions with my coach were so eye-opening to me. I was able to see where I was repeating patterns and how my own behaviors were keeping me stuck in a cycle of disappointment and burnout. I began to feel more empowered through what I was learning and I realized that working with women on a mental and behavioral level would have the kind of impact I wanted to make the whole time.
I went on to enroll in an NLP program where I certified as Master Practitioner in Neurolinguistic Programming. Since then I've certified as a CoActive coach through one of the most globally recognized programs, CTI and I've gone on to study Psychology and Mental Health to bring a new depth of understanding and to be able to fully show up for my clients. I specialize in working with women who are ambitious and know they want more from the life they are currently leading. Through coaching, my clients are able to find a better understanding of themselves and how their past is impacting their present. They are able to achieve their goals in a way that feels more aligned to them with less burnout, less pressure and with more confidence.
Reviews
2 reviews (1 verified) (5.0)
Kirsty is intuitive, a great listener and cares about the work she does. Thanks so much for your help!

Jason
I had been interested in starting with coaching sessions for a while so I was very happy to have met Kirsty and have such a positive experience. Not only she has a great attitude and positive take on life, she gave me practical tools throughout our sessions that truly helped me make the progress I needed in my personal & professional life. I can´t recommend Kirsty highly enough!

Claudia