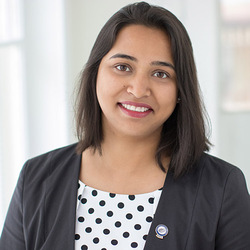 Kirti Singh

Kitchener, Ontario
Leadership Coach, Life Coach, Career Coach
GPCC, ACC
Have you been transitioned to a new role as a leader? If you want to integrate your personal and professional lives better, or you want to overcome desensitization at work; I can help you.
About Me
As an ICF Certified coach, I work with Technology Professionals, Leaders and other working professionals (especially software and IT professionals) to support them through the following:
• Transition into new leadership roles;
• Overcome desensitization and alienation at work;
• Integrate their personal and professional life better (restore work-life balance),
• Working in a cross-cultural & multilingual environment.
With my background in psychology and four years of leadership experience, I bring with me a perfect blend of theory and practice. I have been coaching leaders for the last two years by serving more than 50 clients across USA, Canada, and India.
My approach to coaching is holistic, experiential and relational in nature. I focus on 'Here and Now' i.e., the present moment. I give much emphasis on partnering with my client in a collaborated process. My work is influenced by the principles of Gestalt Therapy and Positive Psychology.
I don't follow a one size fits all approach. My approach to coaching is shaped by keeping in mind the client's unique potential. No one can be an expert in yourself, other than you yourself. I help my clients come up with their own unique solutions.
Areas of Expertize:
• Maintaining work-life balance
• Dealing with existential dilemmas
• Enhancing individual performance
• Optimizing team productivity
• Boosting self-esteem/confidence
• Realizing personal strengths
• Managing personal and professional relationships
• Becoming self-reliant with increased personal accountability
• Working with internal resistance for overall well being
Certifications:
• Associate Certified Coach by International Coach Federation
• Gestalt Professional Certified Coach by the Gestalt Institute of Cleveland
Professional Memberships:
• International Coach Federation
• International Coach Federation - Toronto
• Association for the Advancement of Gestalt Therapy
Reviews
7 reviews (1 verified) (5.0)
Gave me 20 minutes of consultation for free, really discovering how she could add value and determine if there was a fit. We discovered there was not a fit within 5 minutes but she still offered many ways and ideas to help with my immigration project.

Ryan I
Kirti Singh is an excellent coach and was always there to hear me out. A lot of things which seemed unresolved got resolved session by session. I liked her methodology to address personal issues and how she acted as a catalyst to resolve my issues.

Amandeep Singh Bhatia, Team Lead - Corporate Sales, New Delhi
I have got to know about Kirti from a friend of a friend. When I first talked to her I was hesitant but she is so understanding that after a few mins she made me feel comfortable. Sessions with her made me believe that answers for all our problem lie only within us all we need to do is seek for them. She is extremely professional and I know it very well because whatever we discussed remained between us. I am glad I met her she changed my perspective

Consultant, New Delhi
Kirti has the quality of compassion inherent in herself and that's why it comes so effortlessly in her sessions. She gives the space, respect, and acceptance which I feel most of us are looking for and sometimes that can do wonders. Opening up becomes so smooth with her as she sees a person in totality, not in bits and pieces... and personally, it helped me realize that my story matters and there is someone to listen to it without judging it. She made me realize my strengths and the way she did it was amazing. It's like a person can really unfold in front of her and her presence makes it more comforting.

Research Scholar, Indian Institute of Technology, India
I have worked with Kirti Singh for over six months, and I really enjoy her calm, steady, well-structured approach to coaching. She has definitely helped me to improve my performance and growth as a leader. Rather than give advice, she really motivates the client to do the work which is much more effective. She is an excellent listener and has a toolkit of great exercises. I would endorse her as an executive coach for anyone looking to gain self-support skills, deep insights and guidance in virtually any professional field.

Steven Ausbury, Executive Director, Brooklyn College Community Partnership, New York
I had a great experience working with Kirti as she helped me navigate different facets of my life from personal to professional. The process helped me sort through various challenges. Especially when she would take me back to my goals and steps I planned for myself.

Ted Collins, Account Manager, ABB Inc., Portland Oregon
Kirti is the rare Coach who understands her clients from the inside out. I can't say enough about her deep sense of caring, intelligent mind, and humanity. Her training in psychology, psychotherapy, and coaching makes her a perfect combination of sense and sensibility. I consider myself very lucky to have experienced her coaching and recommend her with the full force of my energy and enthusiasm.

Catherine Hormats, Executive Coach, Retired CEO & Leadership Expert, New York