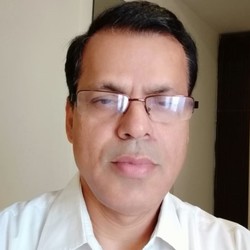 Kishore Kumar Thakur

Chennai, Tamil Nadu
Executive Coach, Life Coach, Business Coach
Marshall Goldsmith Certified Coach & Facilitator, Certified Neuro Science Coach
Ideal client will be some one interested in improving workplace behaviour, Career Transition,relationship, anger management, performance maximisation, team work and managing difficult conversation.
About Me
I, Kishore Kumar Thakur an ICF Credentialed PCC Coach, bring more than 25 Years of corporate experience as Finance Professional and more than 700 hours of Coaching Experience. Being a Neuro Science Certified Coach, I am able to support my clients with Brain based solution focussed coaching, which helps them to learn new behaviour and get rid of self limiting beliefs and habits.
Being a Thomas International certified PPA and TEIQue Assessor, I am able to help my clients in understanding their behaviour / emotional pattern and support them develop desired behaviour / awareness for maximising their potential.
During five years of Coaching practice I had opportunity to work with variety of clients including young promoted managers looking to develop their leadership skills, Business owners of start up companies helping them to keep their team motivated, working with Managers of Fortune 500 companies supporting them in their journey to become coach managers, working with professionals in career transition, professionals on coping with work life balance in new norm of 'Work From Home' due to COVID 19 pandemic.
I derive strength in my Coaching from the belief that every individual has enough potential and is resourceful to become whatever he or she wants to be. This drives me continuously to bring the best out of an individual. Accepting the individual as they are, makes the journey simple and helps in exploring options in a realistic way without losing the sight of the IDEAL.
Reviews
I have experienced coaching with Kishore on my performance related behaviour. Over the period of three months I have 4 sessions. Coaching helped me creating awareness with respect to area of my strength. It resulted in me spending more time on doing what I was good at rather than worrying for weakness. It was very helpful in performance improvement in this milestone year. thanks Vikas

Vikas Jha