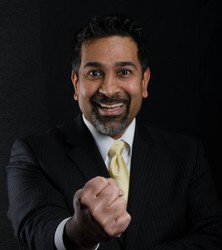 Kit Tankhiwale

Neptune, New Jersey
Business Coach, Executive Coach, Performance Coach
ICF Associate Certified Coach (ACC), iPEC Certified Professional Coach, PMP, CSM, CSPO, Blackbelt - 3rd Degree(Aikido)
I help directors, people managers, and project managers reduce unnecessary conflict and transform necessary conflict into success. I'll help you see choices you didn't realize you had.
Details

Neptune, New Jersey 07753
+1 (732) 447-7217
Send Message
Visit Website
Hourly Rate: $200 to $400 US Dollars
Gender: Male
About Me
Having spent years in the IT and Telecommunications industries running complex projects from multiple roles, I've discovered that people generally want to succeed and that conflict arises in their approach to that success. It's not just in the workplace - we experience conflict in many aspects of our lives. What I've found and what I share is a way of reducing and/or leveraging conflicts in order to reach a successful outcome. My expertise is based in not only 25 years of software development and leading program management offices, but also 25 years of training and teaching Aikido, a Japanese martial art that's known as "The Art of Peace". Combined with best practices in executive coaching, what I offer is the opportunity to be more efficient and more fulfilled at work and at life in general.
Reviews
4 reviews (5.0)
Kit is a totally down-to-earth, approachable coach. He has a laid-back style...but will challenge you (appropriately and kindly) when the stories in your head are getting in your way! He's warm and engaging and cares deeply about supporting you in achieving your goals.

Sue Mann
Kit is an incredibly insightful coach who is extremely adept at creating a safe space for his clients. He artfully asked me questions that helped to bring my barriers and blocks to the surface. Kit listened not only to what I said, but what I didnt say, and was able to package that up into something that got at the heart of the matter, allowing me to make meaningful progress. He was with me every step of the way as I reframed old ways of thinking and worked to establish new behaviors. If you are looking for a coach, look no further than Kit!

Demetria, CEO/Founder
Kit was an amazing coach with the Energy Leadership Development System. Through the Energy Leadership Report review and subsequent coaching, he helped me understand how I was applying different levels of anabolic and catabolic energy to various areas of my professional and personal life. Once Kit helped me understand some unseen trends, he helped me implement strategies to rebalance and apply leadership energy for improved success. Kit was always professional & honest, and the overall experience was one that I highly recommend.

Michael Santoro - Director, Natural Data Analytics, LLC - Chantilly, VA
Kit is a wonderfully attentive and insightful coach. He knows how to get you thinking in a way that taps into your inner self and helps you identify how to bring that to the surface. He has helped me identify my goals and implement them using techniques that keep me accountable. The best part is that these actions and thoughts are all my own personal power that he helped me tap into. He is easy to talk to and completely free of judgement. He makes you comfortable. I highly recommend working with him if you are in need of a coach.

Audra Zammit