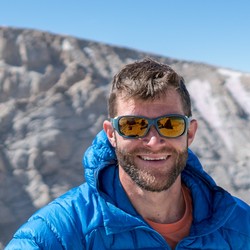 Knight Campbell San Diego, California
Leadership Coach, Executive Coach, Performance Coach
AMGA SPI, NOLS Instructor
Do you strive to be the best version of yourself as a leader and as a human? I empower leaders to thrive in all facets of life through experiential coaching and shared adventure.
About Me
I empower leaders to thrive in life and leadership through shared adventures, community, and experiential coaching. Life should be chock full of adventure, growth and fulfillment. Leadership is a fundamental extension of our character and lives, not some skill we learn in classrooms or talk about in coffee shops. I help jumpstart true leadership growth! Live well, Lead well.
After graduating from the Naval Academy, I excelled in flight school, learning to pay attention to detail, manage fear, and control risk with my team. Choosing to fly the mighty SH60, I got to lead Sailors on three deployments.
Looking for a change of pace, I went back to the Naval Academy where I earned master's degrees in leadership from UMD and the Naval War College. More importantly I had the honor of leading over 700 Midshipmen. From tackling 24-hour crucible events alongside my people to teaching advanced leadership theory at the collegiate level, I left the tour with a burning passion for helping people reach their fullest potential as leaders.
In 2006, my wife and I decided to climb the high point in every state- only 10 left now! I found deep passion for the experience of climbing mountains. Seeing the limits of teaching leadership in a classroom, I knew outdoor adventure would be a perfect place for leaders to challenge themselves and thrive. I started teaching rock climbing, hiking, and mountain biking for REI Outdoor School. I then did a 30-day expedition in Alaska with NOLS to become an instructor there as well. Seeing the need for quality, experiential leadership growth, I switched gears to complete my Executive Leadership Coaching Certificate at Georgetown. I have combined my passion for journey in leadership and the wild to take leaders to the tops of the mountains you see on everyone else's websites!
Reviews
Knight has 4 reviews.
Unique and very professional group. Usually very hard to pull information out of me, but the unique interaction with Knight & Gerardo was a great experience. Thanks again!!!

- Mark, Project Lead, San Diego
Throughout my coaching sessions with Knight, I learned tangible leadership skills as a new supervisor and I identified broader growth areas both professionally and personally. Knight's thoughtful questions, follow through and ability to seamlessly hold me accountable to my goals while supporting me through tough situations made him an incredibly effective and impactful leadership coach!

- Meena, Group Lead, Washington DC
The best part of my experience with Cairn Leadership Strategies was
interacting with their cadre, who were committed to providing the best
experience possible... I really liked the duality of high level group
discussions on the latest research and theory behind stress coupled
with direct, real world experience of climbing rock.

- Jasmine, Navy JAG & Medical Student
Knight's coaching was instrumental in helping me actualize my leadership potential, both professionally and personally. Bringing his expert knowledge and a warm, empathetic approach to each session, Knight helped me connect my values and passions with the strategies and daily tasks I need to perform in order to achieve great things.

- Stuart, Management Professor, Washington DC