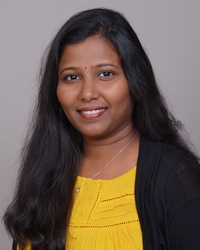 Krishna Rayala

Chandler, Arizona
Life Coach, Relationship Coach
Level1 IFS Practitioner, Certified Life Coach, Certified Relationship Coach, Parenting and Re-Parenting Coach
Do you often feel unloved or unappreciated? Whether you want to gain balance or happiness, improve your relationships or be a better parent, Join my IFS-based Coaching to become a Self-led person.
About Me
Have you ever experienced an inner conflict like you are mad inside but a part of you urges to act like everything is okay OR have you said things out of anger/frustration and are now tormented by your own guilt? Do you feel torn between your own emotions?
Well, it doesn't have to be that way. While it may feel hopeless to change the thought pattern or automatic responses and put an end to suffering there is hope.
Whether your goal is to live a happy life, improve your relationship with your loved ones or raise emotionally healthy children, it all starts with understanding yourself and let those parts of you be seen and heard before asking them to release their fears and extreme emotions. Once you achieve internal balance and harmony, and with newly gained clarity, you know what you want, what decision is right for you and how to handle the tough moments in life.
I coach professional women, couples, and committed mothers, who are ready to invest in themselves to gain clarity and freedom from their own extreme beliefs and burdens they carry and unleash their true potential.
I am a Certified Life Coach, Certified Relationship Coach and have got many parenting trainings under my belt. What separates me and my coaching from other Coaches in the same area, is my training in the prestigious IFS Psychotherapy model. I am a Level 1 IFS practitioner and use the IFS to help clients understand their parts and heal from emotional injuries using their Self as the guide.
My clients constantly tell me, the confidence and freedom they experience with IFS Coaching is incomparable to what they have achieved being in regular therapy for years.
IFS, Internal Family Systems, is a proven and cutting-edge model to unburden extreme beliefs and emotions. You can read more about IFS at https://ifs-institute.com
Reviews
3 reviews (5.0)
Krishna is helping me understand my issues and where they are originated from. I am also able to share the information with out the fear of any judgement. Feeling understood, accepted, and more confident over the time.

Usha Rani Bhuvanagiri
Coach Krishna is a pleasure to work with. She made sure she pulled from ME what I wanted to improve and develop. She is very easy to talk to and asks great questions. She made our meetings a pleasure. During our time together, I met all of my goals. Thank you, Coach Krishna!

Cheri Foschi
I knew I do Procrastinate on the important things I want to do in my life. I was frustrated with myself when I decided to work with Krishna. I was frustrated because all my goals and plans never go into action, they are just stuck in my mind. After a couple of months working with Krishna, I started to see a dramatic shift. I have learned to so much about myself. The one thing I wanted to work on(Procrastination) led to a whole big set of so many internal beliefs and injuries I had from my childhood. I loved Internal Family Systems model Krishna uses to help me. It is so intuitive and very powerful. With the IFS approach, I have learned my Procrastination and Perfectionist parts are actually trying to help me by keeping the failure and criticism they may cause at bay. Once I understood their intentions, I was able to befriend them. I also unburdened my fear of failure, fear of criticism. I know I still have a lot of ground to cover before I become free from my fears and beliefs. But its amazing how much transformation has happened in a short amount of time. I wish I have known about Krishna sooner. If you are on the edge in making the decision to work with a Coach, I highly recommend Krishna and her IFS coaching. She is great at non-judge-mental listening. Her validation used to sooth my parts so well. Overall she is very gentle and compassionate.

Gayathri Perumalla