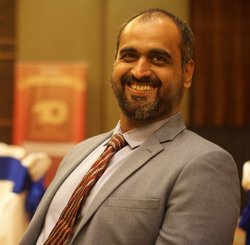 Krishnan Madhabushi

Bangalore, Karnataka
Business Coach, Career Coach, Entrepreneurship Coach
BS, MS, MBA, M.S, MBA, ICF ACSTH Coach training, Psychologist
Are you feeling stuck in your career or life? Stuck in your thoughts and routine, not knowing what next? Helping clients overcome this stuckness is what gives me the greatest joy as a coach.
About Me
Are you finding yourself stuck? Stuck in a career you don't love, stuck in an unhelpful cycle of thoughts, stuck in the routine of life, stuck with not knowing what to do next?
This feeling of stuckness can leave you exhausted and demotivated. However, often this is a signal that you are at the cusp of a significant opportunity for change.
I have over 23 years of experience across varied domains - in the corporate world, as an entrepreneur and as a psychologist.
With the benefit of my personal experiences of taking big and diverse leaps in my career, I help clients who are aspirational yet feeling stuck. I work with the clients' strengths and limiting beliefs to raise their awareness. With this awareness, we then get to the crux of the issue and move into action swiftly and confidently.
My unique blend of corporate and entrepreneurial experience coupled with a grounding in psychology enables me to work with clients across a wide spectrum. I enjoy working with small business owners, senior and mid-level corporate leaders and young professionals and entrepreneurs.
As a former management consultant at McKinsey & Company I am skilled at structured problem solving. I co-founded a SaaS company, which scaled to a multi-million-dollar enterprise with 500+ clients globally, leading to a successful acquisition by a global MNC.
I have a master's degree in engineering from the University of Warwick, UK and an MBA from IIM(Ahmedabad), India's top business school. I am pursuing a Master's in Psychology and Neuroscience from King's College, London University.
Reviews
3 reviews (4.67)
Krishnan listens to your issues and helps you navigate around solutions. He has a great ability to ask insightful questions and create an impact. I absolutely enjoy our conversations.

KK
Despite my initial skepticism about opening up to a third person, I think our engagement was very fruitful. He took the time and effort to create a comfortable space for me to share. Our conversations allowed me to introspect, untangle things and connect the dots. I think what I valued most was that he played a patient navigator and a sounding board who helped me to work through the stuckness I was experiencing with my coaching goal. Thanks Krishnan!

Rithika
Krishnan is an amazing coach! I am amazed at his ability to recognize and present the core of the problem, among the various other information and data, and help with solutions and bring more clarity into it. I have immensely benefited from his inputs & insights, which helped me build and scale up my entrepreneurial venture. I'm forever thankful to him; Thank you, Krishnan!

Rajiv Ambat