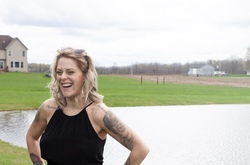 Krista Lattuca

Rochester, New York
Life Coach, Christian Coach, Relationship Coach
Certified peer recovery coach, New York state certified mental health coach
I coach people interested in taking their lives one step close to happiness. I coach family/relationship struggles, addiction/alcohol issues and bariatric clients.
About Me
I am a Certified Recovery Coach through Recovery Coach University. I also have a BS with a focus of Substance abuse counseling. I am a certified recovery coach. I am a person in long term recovery and lived experience. I treat my clients as a whole person, not just treating the "problem". I focus on developing a day by day plan for change action. I pride my practice on being a resources guide for my clients mental health and immediate needs. I am a support person and number one cheerleader for each of my clients. I help my client see their own potential and open doors for changing habits and behaviors. We will laugh together and cry together. I have the ability to relate on a profound level and my empathy goes without saying.
To understand the kind of clients I work with. I have worked with CEO and law enforcement that could not traditionally go to mental health or substance use treatment because of the jobs. I bring to the table therapeutic modalities along side Coaching and sharing lived experience to motivate my clients into recovery. Sharing all of the secrets To getting sober and staying sober.
Another client I have worked with in the past as someone who struggles and toxic relationships or marriage. I have helped couples find healthy communication and fall back in love. I've also helped people Heal after a messy divorce.
Check out Krista Lattuca Coaching on Instagram.
Reviews
She is an Awesome coach. She is very compassionate, understanding, and relatable. She is also true to her word, flexible and extremely reasonable financially.

Olisha McNair