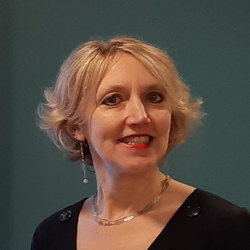 Kristi Alcouffe

Paris, Ile-de-France
Career Coach, Business Coach, Life Coach
B.S. Finance, Erickson Professional Coach, Trained in Emergenetics and Action Learning
Are you at a crossroads in your personal and/or professional life? Are you wondering which way to turn next? I help clients untangle their thoughts and then find the resources to move forward.
About Me
I coach people who are at a crossroads in their professional and personal lives. Are you facing a big decision or new context that is life-changing but terrifying? My clients have options but are unclear about how to move forward. It doesn't have to be that way. You can gain clarity and find your unique direction. The reason you don't know which direction is that you need to understand what the reality of your situation is and how you perceive that reality. Next, you need to manage any responses that are stopping you from advancing.
This is where my coaching can help you. My "Prepare for Success" program is all about looking at what is actually happening around you and what you feel is happening. We will start by thinking about what you really want, how you want your life to be and challenges you perceive. Next step is to set the actions and appropriate behaviours to get you there. I am an empathetic, attentive thinking partner who will ask you deep questions to explore all possibilities. We can investigate confidence and I will challenge you on your limiting beliefs. My clients tell me that after our coaching sessions they have found the confidence that they can be themselves. They can bring their own set of strengths to their life and feel confident about their ability to take on new roles and challenges. My clients talk about feeling less stress and gaining confidence to make decisions.
I am American and French. I have a degree from the University of Connecticut School of Business (Junior Year Abroad in France). More than 30 years ago I followed my heart and made the decision to move to a new country / culture and ultimately started a new life in that country. Since that time I have been working with professionals in all different sectors first through training and in the last four years in Coaching. I have had the unique experience of living and working far away from home and understand the stress related to making life changing decisions.
Reviews
6 reviews (5.0)
After becoming a mother, I decided to devote my time to raising my child. Several years after being absent from the professional field, in 2018, I decided to return to continue in growing my career. Being unemployed came with its cons as I had lost self-confidence & I was getting to know a new market in France. Kristi understood my emotional and ambitious state very well. Her difficult yet focused questions brought me towards a path that I had destined to pursue. She re-built my self-confidence in letting me dream and reassured me with a practical action plan. Just in 3 sessions, I was already moving towards a positive present and a successful future. I would highly recommend her company as a coach and as a friend.

Sabah AMIR
A few months ago, I felt mentally and physically exhausted. I was plagued by a flood of emotions that I couldn't control.  I had the feeling that I was using a lot of energy for little results and being overwhelmed very quickly.  As a young mother, manager and business owner, I was no longer able to see the light of day. Since being accompanied by Kristi, I have regained a lot of energy and learned to better manage my emotions.  The results are tangible: I am less tired, much less stressed and much more productive!  Kristi is very attentive and has been able to guide me to find within myself the resources necessary to overcome obstacles with serenity.

Sophie L
Coaching with Kristi has been extremely beneficial. She helps me to take the time to think about my problems and find by myself the answers. I recommend the experience and especially with Kristi who facilitates the relation, allows to be in confidence and doesnt judge. Thank you Kristi.

Ferrand Frédérique
I met Kristi four years ago when I was looking for a change of direction. Before our coaching, I was a bit lost about my job wishes. I knew what I want for my future but I did not know how to achieve my goal and how to express myself about it. Her coaching had benefits and still helps to express myself when I want a change in my job and to be more proactive about this choice with my superiors. Kristi's coaching is challenging, Kristi is an excellent listener and asks the good questions. At the end of each coaching session, I was more and more precise with my job aspirations and I was on the way to fund the best approach and the good words to reach my job goals. I am still using her methods, advices and experiences to progress and attain my objectives.

Marie Cécile Hirault
(I had around 15 sessions with Kristi) Kristi proposed me coaching sessions as in my job, my unit was due to move in another city, and I was hesitating. I did appreciate the hour when I untied the knots in my brain as I told her. She allowed me to have a clearer mind after a coaching session. She has several tools to help you to point out the main issue in your personal fog, and she guides you to find your own answers. Little extra, she gives you back an A4 recap drawing, very visual and concise. Thank you Kristi!

Marie-Line
Before the coaching session with Kristi, I felt confused about my career. Am I on the good Path? Which step is the next one to move on? Then Kristi helps me to find the answers by myself. She was very listening and helped me to set objectives and a real actions plan. Now, I actually moved on, I am glad and more confident. I will not hesitate to recommend Kristi to anyone because she is flexible and adaptable!

Laure Garreau - Human Resources - Paris