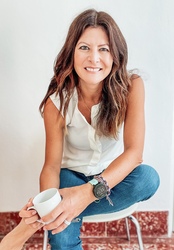 Kristin Papa

San Jose, California
Life Coach, ADD ADHD Coach, Health and Fitness Coach
LCSW
I help people who want to level up and create a more values-rich life that is meaningful and fulfilling. I help people feel empowered and confident so they can create a life they love.
About Me
Are you feelings stuck, overwhelmed, or anxious about your life and where it's going? Have you been feeling like you need a change, but you're not sure how to get started and can't seem to get motivated? I work with my clients to build deeper self awareness to understand what is holding them back so they can move forward. We'll work together to develop an actionable plan with weekly and monthly goals so you can make the changes you've been hoping for.
My coaching program provides you an opportunity to reflect on how your values, lifestyle, and goals impact your physical and emotional wellness. My coaching style is about fostering well-being while also providing accountability and motivation so you can live a more values-rich life.
We'll clarify your core values so they can be your road map towards the life you want. I'll help you apply what we've discussed in session into your day-to-day life to create momentum and positive changes, while helping you regain your sense of self. Together we can help you embrace a lifestyle to thrive mentally, emotionally, and physically.
I use a holistic approach and we'll evaluate all areas of your life so you can move towards the life you've been wanting and show up as the person you want to be. I offer online coaching while conveying warmth, compassion, and respect. I'm not one of those smile-and-nod coaches but will push you and hold you accountable to keep your commitment to yourself. Visit my website to schedule a free consultation today!
Reviews
Kristin Papa is an exceptional wellness coach!! She helps you set goals customized to suit YOU and your life! Whether it is eating better, reaching new heights in your workout routine, or the dreams you have for your life as a whole. I was able to open up to Kristin about things I havent fully talked about regarding living with a chronic illness and my fears about not realizing the dreams I have for my life. She has listened with an open heart and encouraging spirit to help me move past my fears and continue advancing towards my true north! She also inspires me with her moxie, authenticity, and constant momentum towards her true north! In the words of poet Mary Oliver, Tell me what do you plan to do with your wild and precious life? Your wild and precious life is waiting, and Kristin can help you write the story of your best life!

Stacy Guethling