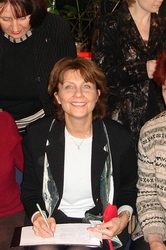 Kristin Tomczak MBC ACC CELC MFC

Walnut Creek, California
Business Coach, Career Coach, Money and Finance Coach
Master Business, Executive, Career, Financial Coach, Coach Trainer & Mentor
About Me
As an experienced business owner, management consultant and executive/business/career transition coach and Ramsey Master Financial Coach, Kristin helps individuals, business leaders and coaches advance with clarity and confidence to achieve their personal and professional goals - so that they, and those they influence, can flourish, prosper and live happier and more meaningful lives.
Kristin has extensive business and life-changing experiences, including being co-owner/COO of a nationwide commercial real estate investment company in which she trained and coached rising staff to become effective executives, many who transitioned into owning their own successful businesses.
Since 1990, upon the fall of the Berlin Wall, Kristin has pioneered global humanitarian activities, building a bridge of friendship and cooperation between America and former Soviet countries. As an ambassador of goodwill, consultant, strategist and resource facilitator, Kristin enables leaders to forge collaborative profitable relationships that advance business, health, education, social betterment and world peace. She's hosted foreign military, police, medical, business, cultural and student delegations to the USA, mentored foreign entrepreneurs abroad, all who continue to be successful in their spheres of influence.
Wanting to share all she's learned from the great people she's been blessed to work with and from her business and life experience and adventures, Kristin helps people set and achieve clear goals, make better decisions in all areas of their lives, become debt-free, build wealth and create legacies. She also facilitates Mastermind Groups and is a Master Coach Trainer preparing professionals for coach certification, then mentoring them as they grow their private practices.
Kristin is a passionate supporter of animal rights, an advocate for the UN Declaration of Human Rights and is a patron of the arts, education, environmental and social reform projects around the world.
Reviews
9 reviews (5.0)
"KT, You are an absolute professional. I appreciate your flexibility, control and your talent to motivate me and others to learn and grow beyond our limits.. which is awesome. I thank you so much. You are such an inspiring person full of resources, creativity and enthusiasm. It is such pleasure for me to know you and to have this unique opportunity and many more to work with you."

Oliver, Author/Consultant, Switzerland
"With you I've gained more understanding, clarity, direction and confidence in who I am and what I have to offer the world. I had so much self-doubt which is gone. I have order in my business and personal life. I've set up my office to be ready for new clients. I now know how to get clients. I have a strong foundation and I found my own voice! My time with you is always an opportunity to grow and move forward being successful in everything I do. My biggest takeaway is realizing I no longer have to be limited by my past.. every moment we have the freedom to choose our responses. You coached me through and permanently out of the biggest barrier in my entire life.. a true break-though which has changed my whole perspective and direction of my life."

Genene, Reike Master/Life Coach, Peoria IL
"Thank you for our session yesterday. I am revived, refreshed, and eager for all I can be, give and accomplish as a life coach. I have a vision of me rising out of the water and shaking off all the chains that bind me. Thank you for helping me find my wings."

Doreen, New Life Coach, Palm Beach FL
"Kristin is a true visionary in the highest sense of the word. She is a consummate collaborator, commanding public speaker, teacher, trainer and inspiring coach whose reputation is renowned here in the US and abroad. KT is also an admirable parent, a great manager of people, assets and resources, a detailed-oriented projects manager and a generous compassionate humanitarian at heart."

Mac, HR Director, Tampa FL
"Thanks so much for our profound conversation, a lynch pin in my existence. I've a new grip on life. You stabilized me by helping me focus on what's most important and clarify where I've arrived in my personal and professional evolution. I'm at the 'next level' I wanted to get to, knowing everyday I can direct my life and career with greater meaning and contribution to the world."

Kurt, Educator, San Mateo CA
"Thanks for listening and for your great assignments to help me unravel my life. Finding out myself what I really want to be and do to create my ideal career (vs what I think others expect of me) is quite an exploration.. and I like what I'm discovering about myself, my talents and opportunities!"

Karen, Single Mom, St Louis MO
"Upon suddenly being laid off, I was fortunate to receive coaching from Kristin. Due to her guidance and support, I was able to move through the crisis phase in to the new job search through landing my ideal executive position. Kristin has the knowledge, finesse and empathy necessary to truly assist a client in a time of crisis. She's a natural coach and brilliant consultant. She has the unique ability to truly listen, then asses the situation. She fully grasped my needs, and then applied the perfect data, resources, advice, and plan to completely move me from crisis to success. "

Jennifer, Executive Director, Los Angeles CA
"As my trusted personal and business confidante, KT is my stability point through any 'perfect storm."

David, CEO, Oakland CA
"Unlike any other consultant or coach I've known, Kristin has a rare ability to get to the heart of the matter, by encouraging me to step back, and take an objective look at what was really troubling me in my personal life and career. I finally was able to focus and make significant changes inside and around me that I'd been unable to do over a very long time. This freed me up tremendously at work, with the result that my teams almost doubled their production… and my family is a whole lot happier, too! The added bonus is that I am now able to help others significantly in ways I could not before."

Annette, Non-Profit Director, San Francisco CA