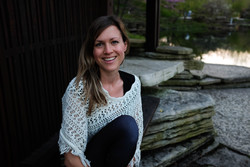 Kristin Urbanus

Chicago, Illinois
Career Coach, Spirituality Coach, Life Coach
BA
I coach people who have yoga, meditation or personal development central to their life, and who are in career transition, growing their business, or craving relational growth. Let's talk!
About Me
I am a wellness professional with over 8 years of experience as a wellness expert and coach and over 2,000 hours in human development studies. I see that when people have the tools, resources and support they need, they will achieve their goals and grow in ways they did not previously see possible. It is my mission to bring people those tools and resources.
Through our work together you will:
- Get clear on your goals
- Align to your values so you feel more fulfilled
- Recognize and manage your saboteur voices
- Uncover limiting beliefs which may be holding you back from seeing all possibilities
- Grow in self-awareness, accountability and self-responsibility
- Build the connection to your Inner Leader- the wise, strong part of you
- Empowerment through the skills and support you need to navigate any situation
- Create a compelling and exciting vision for your life
We also work to the build the tools, resources and support unique to you (both inner and outer) to help you navigate as resourcefully through challenges and opportunities.
Contact me to schedule your complimentary Exploratory Session so I can learn more about you, get clear on your 6 mo. goals, talk about what coaching together would look like, have a coach-like experience so we can try on the fit, and take away an action item towards your goals.
Reviews
6 reviews (5.0)
"Kristin's life coaching services have been so valuable. During our sessions, she has helped me define my values and connect to my inner wisdom in order to design my future. With her guidance, I have been able to pinpoint what tends to hold me back from living to my fullest potential. We worked together to create new attainable goals and habits that have inspired me to finally start my own business! I have gained so much clarity from working with her and I'm forever thankful."

Kristina, Health Coach, Los Angeles California
"Kristin has been so great to work with as a life coach. She has supported me and helped my vision convert into reality. She has guided me to listen to my inner wisdom and helped move a step closer to my goal. I definitely recommend her as a life coach as well as yoga instructor. She not only has the capability to guide and support you but help you actually achieve it. Thank you Kristin for your support. It is invaluable."

Nikita, Tech Industry and Change Maker, Chicago Illinois
"Sometimes the most difficult step is to acknowledge the need for help, but in acknowledging the need I was able to ask the universe for help. When doing so the universe provided me with an incredible healer; Kristin helps facilitate you to work with the deep rooted issues and emotions that arise and allows you to see what they are trying to communicate with you. I am incredibly thankful to Kristin for her continued work in all of her fields and her ability to implement them to be useful tools in healing for me and the world."

Juan, Police Officer, Chicago Illinois
"Kristin & I started working together on some mutual ground to tune up the engine of my life & to get out of my head & into living with purpose. By seeking out the advice from Kristin, she held me accountable while I dug in, did the exercises & we worked as a TEAM & we worked diligently. Let me tell you it was the best gift my spiritual TEAM helped me give to myself & I am grateful for the all the growing pains that have guided me to a greater experience I'm reaping from doing so. We started by laying out some perspectives & as we did so with each session, yet always having a higher perspective guiding us. Kristin's coaching ability and the love she has for helping people has propelled me to now feel like I am living more fully from the experience of be-ing & from a much higher perspective from her guidance. Thank you Kristin for all that you are & all that you do to make this world a better place." - Spiritual Coaching

Fred, Small Business Owner, Chicago Illinois
"I sought out Kristin at a point in my life where I had hit a bit of a wall. I knew I needed to make some very significant changes, but couldn't identify a path forward that wouldn't throw other aspects of my life into a spiral. I also wanted to re-examine some aspects of my conflict-management and personality traits to help me reach specific goals. I cannot say enough positive things about my experience with Kristin. She was calming, she was flexible, she was patient, and she really helped me tap into parts of myself that while always present, would have never come to the surface without her guidance. She also held me accountable to specific and tangible goals as part of each session and it was essentially a step by step guide (at my own pace) to overcome some of the most deep rooted fears and insecurities I've ever faced. After seeing Kristin for about 5 months, I am proud to say that I've made the changes I needed to make and my life is on a path that while I wanted it, I never thought I would actually be able to achieve. I highly recommend Kristen as a Life Coach. She's simply amazing."

Rachel, Senior Vice President, Charleston South Carolina
"Kristin's title is 'Life Coach', but I feel like that title fails to appreciate and communicate the huge, positive impact her sessions can have in your life. I have accomplished more in four months with Kristin than I have in years of talk therapy. You can tell that Kristin genuinely cares, and she tailors each session to your individual needs. With Kristin's help, I have been able to gain invaluable perspective on my life, what direction I want it to take, and how I can get there."

Jessica, Student, Chicago Illinois