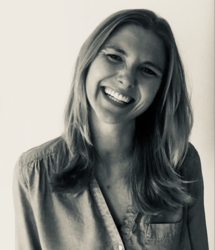 Kristina Mueller

Barcelona, Catalonia
Life Coach, Executive Coach, Team Coach
Professional Certified Coach by ICF
I coach people, teams and organisations to achieve alignment, purpose and wellbeing in their everyday lives and in the workspace. I help my clients to gain clarity, define their vision and own it.
About Me
With my coaching sessions I help you to:
- Define your personal and professional vision and set goals that inspire you
- Prioritise and filter what's most important to you and start focusing
- Create healthy habits that support and sustain your vision and the life you want to create
- Discover and uncover your obstacles and design a plan to overcome them
- Recognise the resources and tools you've already got and the ones you need to develop
In essence, as a coach I'm here to help you tune into yourself, cut out the noise and gain clarity so that you can tap into your own answers and tools — allowing you to consciously and sustainably continue on your own path towards greater wellbeing and satisfaction.
To create cultures of wellbeing on an organisational level, I also support company clients in areas such as stress reduction, emotions and authenticity at work, how to build meaningful connections, and more.
I am an associate certified coach accredited by the International Coaching Federation, postgraduate in 'Professional and Systemic Coaching', certified yoga teacher (Hatha-Vinyasa and restorative yoga), and have over 8 years of experience accompanying people and teams on their personal and professional growth journeys. Being passionate about languages and having lived and worked in several countries, I provide coaching in English, Spanish, French and German.
Coaching and workshop sessions with me are both engaging and fun!
Online and in-person sessions available (depending on location). Feel free to reach out for further information and to book your first discovery session.
Reviews
6 reviews (4.83)
Kristina is a great active listener and personalizes very well her process to the needs of her clients. She leads you to be more concious about your actions and helps you to find the path best suited to your personality and work situation. It was a very enlightening experience.

Thales Oliver
My coach Kristina Mueller is a great professional. I highly appreciated our sessions and exchanges and how she guided me to identify my values. Working with her on leadership development helped me to identify my own way of leadership and how I can continue to improve myself. Dr Ahouansou, Migration Health Officer

Judicael Ahouansou
I've greatly appreciated coaching with Kristina. Through our sessions I've been able to define and understand better what kind of manager I wanted to be/become, and I've been able to set myself the necessary goals in order to advance in that direction. In that process I've learnt to look at and be confronted with myself on different levels: with my emotions, and with myself on a personal as well as on a professional level, and that has led me to develop greater awareness in regards to my own management style. With the help of our coaching and as a result I can say that I've gained more self-confidence as well as more confidence in my professional abilities. Kristina as a coach is very professional and supportive. Her extensive business and management experience have allowed her to quickly understand the daily challenges I'm facing. By using various coaching tools, she has helped me to take a deeper look at myself and at my professional practice. I'd also like to highlight her excellent knowledge of the French language which has allowed me to enjoy coaching in my native language and meant that I've been able to be more authentic and precise. Yves Hochuli, Deputy Director, Ligue vaudoise contre le cancer, Lausanne, Switzerland

Yves Hochuli
Thanks to coaching with Kristina I have been able to put focus on my objectives and cultivate a sense of calm which has allowed me to change my course and face the new challenges ahead with confidence. Our encounters were pleasant and brought clarity. Her questions allowed me to know myself better and to trust in the changes I wanted to set in motion. Knowing that Kristina was there along the way helped me to walk my path more securely. Thanks to our coaching I have discovered a tool on which I can rely when feeling insecure, in doubt, and which allows me to focus on the possible rather than on the difficult. I highly recommend her method and her warm personality.

Rosalía Suárez Pérez
My coaching experience with Kristina has added and continues to add clarity to my life. Our sessions allow me to explore my feelings and thoughts as if I had a flashlight in my hand, illuminating little by little dark corners, obstacles, treasures, and shedding light onto the different spaces I need to cross in order to advance. Kristina's questions help me to walk this path - they open up new doors, making next steps easier to walk. Coaching with Kristina has empowered me. It has allowed me to discover the tools I have and the ones I need. Thanks to our sessions I have a clearer vision of where I am and where I want to go, what I want to take with me on that journey and what I need to let go of. I feel very supported, from a place of love and without any judgement.

Sara Manserra, Trainer for Social Change
Having done coaching with Kristina has been a comprehensive process - very caring and enriching. I have learned a lot about myself and been able to make major changes which has had a big impact on my life leading me to finding more serenity and contentment with myself and in my private and work relationships. Thank you so much for this guidance! Mariel Fuentes Orellana, Lighting Designer, Barcelona

Mariel Fuentes