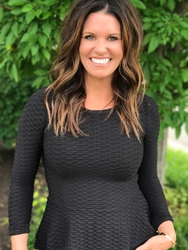 Kristine Vineyard

Kansas City, Missouri
Life Coach, Spirituality Coach, Health and Fitness Coach
HPC
I help clients navigate & thrive, in mind, body & spirit, through unexpected life transitions. We create a vision of a life they love with purpose, passion and peace and pursue it.
About Me
Kristine Vineyard is a certified life transition and human potential coach. She helps clients navigate life transitions to become their greatest potential emotionally, mentally and physically. She takes clients from overwhelm and uncertainty to living a life with more purpose, passion and fuller lives. Her clients learn to thrive in life with more balance, peace and overall happiness. Transitions consist of divorce, loss, empty nester, illness, etc.
Kristine is certified through The Life Coach School & The Human Potential Institute. She is the owner of uBwell, a happiness and well-being initiative that offers 1:1 and group coaching, workshops, retreats and speaking engagements.
Reviews
Kristines level of expertise in the coaching cycle is admirable. Sessions with her are beneficial and therapeutic in nature. Theres no judgement and she is expert at providing space, time, insight-invoking thought, and validation. I definitely leave sessions with a clearer head and mindset. So valuable!

Kelly