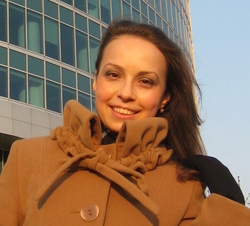 Ksenia Romanova Moscow, Moskva
Performance Coach, Life Coach, Career Coach
I work with individuals on identifying life priorities, self-confidence, life/work balance, time management, communication skills and support them in taking important life decisions.
About Me
I am passionate about people and their achievements. I would be happy to help you achieve your highest potential and fulfill your life dreams. Together we will identify your goals and make a clear plan to achieve them.
I am a professional HR specialist and I have 6+ years of coaching experience within organisations and outside. Having worked in a multinational organisation I have experience of coaching people from other countries remotely.
I help my clients to clarify their goals, to get ready for major changes in their lives and make them happen. I work on raising their self-awareness, their self-confidence and motivation.
Typical coaching themes:
- achieving goals and identifying life priorities
- self-confidence
- work/life balance
- time management
- improving performance
- effective communication
- starting a new job
- a new mom and/or a working mom
Education:
Completed ICF accredited coaching course
Have postgraduate diploma in Human Resource Management (Nottingham Business School, Nottingham Trent University)
Attended numerous courses on management, leadership, training, people management, 360 assessment.
Languages:
Russian (native), English (fluent)
Reviews
Ksenia has 2 reviews.
I turned to Ksenia when I started to have some difficulties with self-perception. I felt so miserable and self-conscious - sometimes I couldn't even pick up the phone to call somebody. I was totally at a loss not knowing what to do.

Together we started working with my self-esteem and Ksenia empowered me with some tools of self-analysis which helped me to become more self-assured. As a result, I solved all the issues, which seemed to be absolutely impossible before.

When I overcame the obstacles concerned with self-esteem, I understood that I was stuck in a rut with my career development. Everything seemed so obscure and impossible to reach. Ksenia kindly guided me towards my intrinsic aspirations about working life and showed me how I could prioritise my career tasks and achieve my goals.

A couple of months later I once woke up a different person: aware of my strengths and weaknesses, having a clear-sighted vision of my future. Now I know what to do and where to go, what resources I have and how I can direct them. Coaching with Ksenia enabled me to take pause, step back and think strategically. My life has different colours now and the working prospects look so bright! That's an amazing feeling of freedom and confidence which I owe to Ksenia.

Ekaterina, English teacher/ESP tutor, Nizhny Novgorod, Russia
We worked together with Ksenia for the same organization for about three years. Ksenia was leading on HR and I enjoyed a successful career in Marketing & Communications, growing from the role of Social Media Officer to Marketing Manager and later to Partnerships and Sponsorship Manager for arts projects. Throughout this journey I consulted with Ksenia several times at the crucial turning points of my career. I always found support that helped me develop leadership skills and act upon my ambitions. Ksenia is the kind of coach who advises without giving advice — she asks questions and makes observations that trigger one's own true ambitions and understanding. Ksenia helped me to formulate my long-term and short-term goals and create a plan for realising them. I am particularly grateful for Ksenia's support in my decision to take a career break and receive an MA in Central Saint Martins College of Art and Design in London. Today I live and work in London, combining my marketing skills in the role of Development Manager for a travel/events company with building my independent career as a curator/producer of arts projects.

Tonya, Development Manager & Curator of Arts projects, London, UK