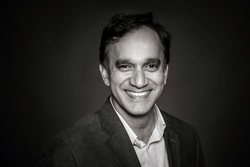 Kumar Dattatreyan

Alexandria, Virginia
Business Coach, Executive Coach, Team Coach
John Maxwell Certified Coach, Academy of Creative Coaching Executive Coach, ICAgile Certified Team Coach
I coach leaders and business executives to achieve harmony, balance and relationship agility, resulting in innovative, high performing and engaged people and teams.
About Me
My passion for coaching is driven by the desire to improve others' lives by helping you achieve your fullest potential. I am very much a collaborator at heart and easy to strike up conversation with.
My philosophy is to approach life's challenges and opportunities situationally, with context, and with empathy for both the current state, the past, and your desired future. I respect your knowledge and I work tirelessly to incorporate what I learn from others, striving to pass it along, by speaking transparently about my own experiences when called upon to do so. My main focus is in supporting you on your journey.
With over 25 years of experience both in the trenches and in senior management in organizations ranging from start-ups to Fortune 500 companies, I have worked with leaders to provide improvements around product development, executive training, leadership coaching, strategic planning, software development, project management, HR, governance and other business areas in both highly-regulated and non-regulated industries.
More recently I've been working with leaders in companies to help them in improving system-wide performance, coaching with Lean and Agile organizational transformations, and providing training and coaching using Agile, Lean, Systems Thinking, Business Agility, User-Centered Design, and Organizational Development techniques and mindsets.
I've applied these techniques to individuals as well, as they transition to new careers, or look for opportunities in their existing careers. I've also helped entrepreneurs as they start their businesses, or look for help to scale
I continue to evolve and refine my thinking around coaching, having earned certifications from the John Maxwell Team, and from the Academy of Creative Coaching.
I most value the personal relationship between coach and client and guarantee that should you pick me, you will get a coach 100% dedicated to your continued growth
Reviews
7 reviews (5.0)
The experience was positive in many ways, discussions were structured to guide you through the journey. It was not at all textbook/theory, very well organized with Open discussions about key leadership topics. Kumar was well prepared, and he shares good insights and guides you to improve. The best part was: books he recommended to read, shared great leadership qualities in simple terms. Very flexible to schedule your sessions! He will demonstrate Leadership qualities, that's a big incentive!

Sri
Kumar was an amazing coach! He brought experience and grace into our sessions. This allowed me to discover a path and feel comfortable doing it. During our time together I was able to successfully move multiple projects along that had been stalled for months. I was also able to organize my life to accommodate my family, my work, and myself. I would HIGHLY recommend Kumar as a coach.

Eric Childs
I have had the pleasure of working with Kumar both as as client (when he was at Gannett) and later as one of my employees (at Santeon). Kumar is absolutely of the best coaches that I knowboth at the individual and the enteprise level. He is held in high esteem by his clients who appreciate his deep knowledge and his thoughtful approach. He is sensitive to people and able to help those around him to grow and to progress. He has a compelling vision for how things can be better and how to move towards that state. Kumar always leaves an organization better than he found it. Finally, Kumar is a man of integrity, and can be trusted to do what he says he will do. I can highly recommend him in every sense.

Jeff Nielsen
Kumar, one of the best coaches i ever had. Amazing patience, tenacity and excellent body of knowledge. With Kumar, I found a Sensei who practiced his skill wherever he could. As an agile coach, he set me up on a way to reorganize my work and, in a way, my life. Thanks Kumar, you made agile come to life for me. I would love to be in any engagement that you are coaching or working in. Thanks for your thought leadership and coaching.

Ganesh Nagarajan
I was so sorry to see Kumar take a new assignment and move on from Anthem. He is one of those very senior coaches that is ready and willing to wear any hat. From coaching teams, training, standing up ARTs to running enterprise business agility workshops, Kumar was very impactful. I especially appreciate the level of maturity Kumar displays, no drama and very thoughtful. Kumar possesses a broad range of skills that goes beyond the standard coaching repertoire, he has constantly invested in expanding his skills, not just in Agile frameworks and lean thinking, but in organizational behavior and business dynamics. A true pleasure to work with.

Bruce Kantelis
Kumar Dattatreyan instructed Leading Safe to my Executives and Leaders. His coaching and facilitation of our weekly cohorts has enabled SAFe principles throughout the company. Our journey to transform the DeNOVO Solutions into an Agile company has brought us greater effectiveness focused on value. Thank you, Kumar, for being on this journey with us.

Danny
During the years we worked together, Kumar was a patient and kind partner in my Agile learning. Using his skills and focus on listening and asking powerful questions, he quickly learned what was important to me. Then, he made those same things important to him and in our time collaborating. Kumar's generous sharing of his vast experiences and recommendations have resulted in my jealously guarding the time we get together. I recommend Kumar for your Agile improvement efforts and I do that without any reservations. It is certain he will bring value to you and your organization! *Just please don't ask him to sacrifice any time helping me!! :)

Phil Purrington