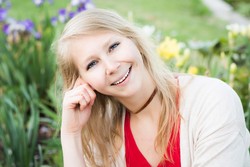 Kylie Chebahtah

St. Louis, Missouri
Life Coach, Health and Fitness Coach, Spirituality Coach
BS, Registered Nurse (RN), Health and Wellness Nurse Coach-Board Certified (HWNC-BC)
I help motivated wellness professionals reduce and manage stress while beating procrastination to live a happier, healthier, more balanced life. This way, you can get to the next level!
About Me
I help wellness professionals(&those in training!) reduce and manage stress & beat procrastination to live a happier, healthier, more balanced life.
Are you struggling with what feels like unmanageable stress, procrastination that causes anxiety, and burnout with nothing left over? You probably think that you have "too much" going on, you're an "overachiever" and put too much pressure on yourself, or that you don't have the right coping skills.
The truth is that you don't have "too much" going on, it's simply not prioritized yet. You may not have the clarity to know the next steps to take. Truth be told, you're not an overachiever, but you're likely "biting off more than you can chew". Now, consider the pressure you put on yourself for a moment. It's not too much, but your self-talk may sound negative and lack a sense of self-compassion and kindness. You may ruminate on all the reasons why you can't do something instead of asking how you could do it. You may feel you lack coping skills, but really there is an imbalance in your life because you find yourself "pouring from an empty cup".
My coaching provides you with powerful transformation! It starts with an authentic holistic health and wellbeing assessment. We safely look at all areas of your life and help you realize your dreams, desires, and goals. Then, we clarify and prioritize what needs the most attention and start there. You will gain the motivation and confidence you need to reduce stress, beat procrastination, and level up! I'm there for you 100% of the way with amazing accountability. I've seen this work time and time again with my clients.
And when you hire me you get laser focused attention to your own goals; time management and organization tools; a healthy, positive mindset free from anxious thoughts; a sense of connection and self-love you never had before; discernment of knowing what serves you vs what doesn't; ways to "fill your cup"; and the vitality to take on anything you set your mind to!
Reviews
5 reviews (5.0)
My coaching experience with Kylie was integral to honing down a large list of "to do"s to focused effort. She was insightful while supportive, providing the right amount of direction and encouragement. Kylie is a great coach!

Andy Bazakis
Kylie, Your coaching style is a calming and open environment approach to allowing someone to look inside themselves to see what is actually hurting them without any judgment from you. It was easy to open up to you, but hard to lie to myself in front of you. You were exactly what I needed to start back on my journey of loving myself again during a challenging time in my life. I started to feel hopeful and driven a little more after each session. For that I just want to say thank you. Before I started working with you, I was consumed in a negative environment and not knowing which direction to take to get myself out. My mother was recently diagnosed with Stage 4 Breast Cancer, I moved half way across the United States away from the life I was building for myself to take care of her in the middle of a global pandemic with already low finances, and problems with my mental health. Our coaching sessions were like the jump start my life needed to start taking action, stop being a victim, and truly go after what I want out of my life. As I began to start taking care of myself, others around me started taking care of themselves. Now I am freely setting goals and achieving them without anyone else on my back. Everyday I am working hard to beat myself from yesterday and not worrying about saving anyone else. Working with you was enlightening to say the least. I could tell you are passionate about your work. When we would talk, you would listen to me and pick away the details to confront me on what I was really trying to say what I wanted out of my life. I like most about our coaching relationship was that you would not allow me to slack off and lie to myself. You made me dig deep down into my soul and listen to what I having been trying to tell myself for awhile. The benefits of our coaching together: I started to love myself again and take care of myself before everyone else. I stopped lying to myself on what I really want and now I go after it without excuses. I have organized my life and examined the weak points that need to be fixed. I have earned two IT certifications. I have become more relaxed about life and less in a hurry. I have learned that you can hide from what you want from this world for a long time, but it will start to make you ill if you do not confront it. Also, (and I think this is the most important piece) you have to get to know yourself and love yourself. You are the number one person you should never lie to, give up on, or betray. I recommend you to anyone who seems lost on their path in life right now, feels they need someone to push them to start, or help them finish that last lap in their race. Sometimes you just need a nudge in the right direction to put you back on track."

Joe Parrott
Before my coaching sessions with Kylie started I would say my brain was All over the place! I had so many different thoughts and ideas and just felt like I was never able to truly stay focused on anything. Once youre able to get everything out that has just been running through your head nonstop she will find a way to help you organize those thoughts! Kylie is a great listener and helped me figure things out about myself that I was having trouble figuring out. In a way I would say she helped to Organize my thoughts. Which then helped me with the feelings of Anxiety and being overwhelmed. She always asks the right questions that really force you to dig deep into your own mind. I always felt Lighter in my feet after each session! I always left with a different outlook and perspective on on life! Overall I feel very confident about moving forward into the new chapters of my life.. I discovered new ways of keeping track of my thoughts and my goals. I would recommend all of my close friends and family to see a life coach just in case they are having any issues that they may not even know they are aware of! I appreciate the time that Kylie took out to do this and be here for me! I definitely have her voice in my head for life!!

Carmen Shropshire
When I started my coaching sessions with Kylie, I was about to embark on a very transitional point in my life. I was in the process of leaving my current job, looking for a new one, moving to a new city 200 miles away, and studying for the entrance exam for medical school. There was a whole lot going on, and my goals for coaching were to get clarity on my future and learn how to deal with immense anxiety I was feeling amidst all that was going on. Throughout our sessions, Kylie was very adamant about the client-lead approach to coaching, which was incredibly effective, especially for me! She asked questions that led me to solve my own problems, as well as peppering in wonderful advice, educational materials, and documentaries. The most wonderful part about working with Kylie was her very obvious passion and encouragement for me as a client. When I met my goals she was so excited for me and she truly cared about my well-being. She contacted me nearly daily to make sure I was following through with my goals, which really held me accountable for the promises I made to myself. By the end of our coaching, I had so many new tools to combat anxiety, new skills in mindfulness and meditation, a true love for myself, and so much motivation that I can truly achieve my goals. I've discovered that small changes day to day will create habits that will make me so successful and make my life more meaningful. I would recommend Kylie's coaching to anyone who feels overwhelmed, or anyone who wants to build life-changing habits and make a wonderful friend and cheerleader in the process. Thank you for everything Kylie!!!

Darby DeFord
I had gone through several massive transitions before getting into coaching: a career change, yoga teacher training, shifting my focus on healing, getting into meditation and self-study. And then at the start of coaching, COVID hit and I went through a move. My life at the beginning of coaching was a tangle of things I knew needed to change but I wasn't even sure where to begin. I had made a lot of positive changes so I knew I could do it but really needed an outside view of what was going on. Nurse coaching with Kylie provided me with an opportunity to start at the foundation- she guided me to what was really going to affect every other aspect of my goals, which was a consistent meditation and self-study practice. I didn't even know that that was where I needed to begin until we explored what was important in my life and what made me happy. Kylie made me feel listened to and validated the work I had put into my life to create my own happiness. Her expertise in incorporating meditation into daily life benefitted not just my mental health but my mindset surrounding my diet, my relationship with my partner, and my future career goals. She challenged me to think deeper and deeper. The biggest thing I learned was that the wisdom IS inside me and going through the coaching process taught me how to dig for it! I would definitely recommend Kylie as a Nurse Coach to other nurses and healthcare workers... ANYONE who works with people and need to have their own cup filled!

Emma