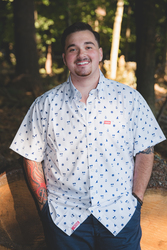 Landon McNee

Maybrook, New York
Life Coach, Health and Fitness Coach
Certified Professional Coach, Certified Youth Presenter for National Alliance on Mental Illness (NAMI)
I coach adolescence who are struggling with making big/small transitional pivots in their life. I specifically help my clients step into their authentic selves by exploring and their LGBTQ+ identity.
About Me
We all see the same reflection in the mirror every day but I help my clients see their reflection in a whole new light. Every person that reaches out in wanting to know more about life coaching asks, "So...are you a therapist?" My simple reply is, "No, I'm not here to diagnose. I'm here to listen, question, acknowledge, and shed light in those dark corners you may be avoiding. Long store short you may be stuck in making changing and I'm here to help.
As a Certified Life Coach through the International Professional Excellence in Coaching (iPEC), I've mastered skills that help people set and accomplish goals in a realistic way.
Alongside training, my personal life experience with drastic life transformation (transitioning from female-to-male, major weight loss/gain, grief, and family turmoil) allows me to connect with my clients on a genuine basis. No matter the block, big or small, I offer a space for us to embrace the so-called vulnerable "fucked-up" human in all of us and, therefore, access our innermost potential.
Reviews
My son has been working with Landon McNee for about 6 months now, my son has become more comfortable, is standing taller and breathing easier. After coming forward my son seemed at ease, but that period was very brief, he quickly retreated into himself as he wrestled with his gender identity. My husband and I were at a complete loss. I found out about Landon from a client of mine and so I reached out for help. Landon has worked magic with Shawn. My son is better able to socialize where before he had been very introverted and withdrawn. He reaches out to Landon for assistance when needed and prioritizes his coaching sessions. He incorporates the work they do together into his days without hesitation. Since working with Landon my son has been able to begin attending school, making friends and seems to be flourishing. There are many more sunny days than cloudy days anymore.

Jessika Ramie