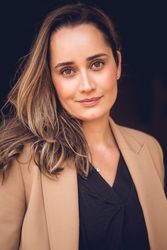 Lara Augusta

Mendham, New Jersey
Life Coach, Leadership Coach, Team Coach
BA, MS
I coach individuals and corporate clients on self-awareness, self-ownership, self-empowerment, and ultimately towards fulfilling their highest potential while going through transitions in life.
About Me
Hi, there!
I am a Life and Leadership Coach, with International Relations, Global Hospitality, and Learning Design and Technology background, specialized in Energy Leadership™, Social-Emotional Learning (SEL), and Positive Intelligence (PQ).
We live in a world of information abundance and meaning scarcity. I am on a mission to elevate impact and unleash more energized human potential into the world, one interaction at a time. In our time together, I utilize both breakthrough neuroscience, and psychology practices. Using distilled techniques and acute energy shifting, I help my clients identify their inner knowing, and develop actionable plans to advance their lives. Working collaboratively, I aim to assist you in uncovering the deepest layer of awareness, noticing energy patterns, and helping you unlock barriers, expand choices, and move steadily towards meaning, self-fulfillment and success.
I also embrace a multicultural, multi-perspective approach to coaching, and here is how: I have lived, studied, and worked in Brazil, Canada, China, Switzerland, Russia, South Korea, the United Kingdom, and now, based in N.J., U.S.A.. As you might have gathered, I love travelling: my sense of wonder, curiosity, and willingness to learn has already taken me to 53+ countries (…and counting…). It is from this expansive, and varied experiences that I can provide an open minded, deep and rich coaching experience.
I trust there are many ways to embarking on new ventures, and I am invested in partnering with you on your journey to meeting your coaching needs for a life that reflects your own expectations and understanding of success.
Reviews
4 reviews (5.0)
I work in a highly male-dominant, VERY competitive environment. After becoming a mom, I struggled with my return to the workplace, particularly without a clear separation from work-home environments since virtual spaces became more prevalent. I had been doubting my ability to be fully present at work, while also carving out time to be fully committed at home, and my newfound reality. Lara responded to my willingness to understanding what limiting narratives I had been playing all along, and how Id be able to integrate my priorities in life. I had been feeling not good enough in all areas, and through our time together, Lara helped me grow in understanding of what I am able to welcome into my life and achieve at different times. Although it was hard at first, I now allow myself to experience sufficiency, and I feel lighter and more present for doing so. Very satisfied with the results of our coaching relationship!

Emily Adams
Lara is an absolute delight to work with. She is a very compassionate coach, and really partners with you in seeing you through your challenges with firmness, presence, innate wisdom, and with genuine curiosity to help you learn, expand and grow. I have been working with her now for a little over a year. At first, it started as a 3 months work relationship: I needed an ultimate resolve with the direction my life was going into at the time, and she held space for me through the process, asked some thought-provoking key questions that really got me not only discerning my options, reevaluating them, seeing AND creating the possibilities for myself, but also put me on the drivers seat of my own life, at home and at work. I felt so empowered with the experience she guided me through, her processthat I simply kept signing up for more. She has helped me on and on to fearlessly confront new ventures as an active creator of my own reality. I highly recommend working with Lara if, and only if, you are open, and ready to do the work. Its worth it all!

Helena S.
Lara, is one of the kindest and caring people Ive ever had the pleasure to work with. She has great insight and intuition. She just seems to pick up on my energy in our sessions, that just makes her so relatable and easy to open up to. She has always helped me get to the root of my problem with her questioning and knowledge. She great! I would recommend her to anyone that needs a kind caring coach to help them through a issue.

Ronnie White
Lara is compassionate, caring and have the power to ask excellent questions to help one progress and grow.

Mamta