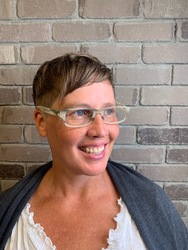 Lara Gregory

Victoria, British Columbia
Relationship Coach, Life Coach, Spirituality Coach
BSc. Pyschology, Behavioral Science
I am a Relationship and Intimacy Coach. I talk about the things nobody else talks about. Sex, Your Body, Pleasure, Arousal.
About Me
You Want More. More Intimacy, More Pleasure, More Well-Being, More Personal Success. You want to Be Free in your Life,You Want to BE Fully Expressed. You want to enjoy and live in your Body. Life is Pleasurable, Primal and Playful. You know there More to Life, that it is all Possible. More Love for your Body, More Intimacy in Your Relationship. More Play in your Life, More Pleasure in your Everyday.
If this is not already your Life, I know that Your Instinct, Your Heart is yelling at you to do something, change something, find another way. Or maybe it's a Whisper, but you Hear it.
You may be experiencing Stuckness, Frustration, Pain, Numbness or Disconnect;
People often work with me when in transition;
You may be experiencing existential shifts, confusion, and frustration with your life, relationships and health.
You want a Safe Space to Explore and Re-create Your Life, Your Body Connection, Your to Pleasure and Play.
All Desires are Welcome!
We customize a Coaching plan that may include Conversations, Movement, and Hands On Body Work. Practices might involve Body Love, Personal Erotic exploration, Movement practice, and anything that can support your exploration and moving forward into what you want.
There is no ready.
Start Now.
Safety practices are used at all times.
Boundaries are decided together for each session.
Services are 100% confidential.
Reviews
3 reviews (5.0)
Lara's professional guidance has lead to major positive changes in my life. I am impressed with how she has helped me evaluate my life holistically, and then focus down on the areas that I really want to improve. Lara has an upbeat personality and I find that our sessions are a pleasurable, and always thought provoking, experience. The sessions provide lots of positive reinforcement and a framework to help me identify the changes I want to make. Lara has helped me in the areas of sexuality, body numbness and well being, anxiety, confidence, relationships, work productivity, and more. The results to date have been fantastic - I have gained comfort in who I am, gained self-confidence, learned how to cope better with anxiety, and, in general, feel like a huge weight has been lifted from my shoulders. In summary, Lara has enabled me to transform my life.

Scott
Before starting the coaching sessions with Lara, I felt like I was lost. Confusion about what my life purpose would be, after recently retiring, created self doubt and a dwindling self confidence . I contacted Lara as I knew that I needed support and a guiding hand to work through this important life transition. Lara is an upbeat and positive person and has given me a true sense of the changes that I wanted to make in my life. Working with Lara has renewed my self confidence in my abilities and I now have strategies to overcome previous challenges. My sense of purpose is now clear, and I realize that I have an exciting life to live, moving forward. Making the decision to coach with Lara has enhanced every aspect of my life and has been one of the most important decisions I have ever made.

Wendy C.
Lara is a great coach. She is direct with her communication and she holds you accountable to what you say. She pushes you to challenge yourself and follow what you know is the right direction for you; she also has a wonderful way of understanding what you are trying to say and is able to really recognize and acknowledge you for who you are.

Aviva