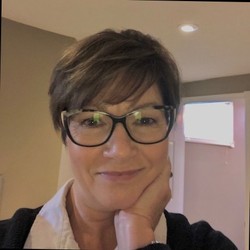 Laura Sciore

Consecon, Ontario
Leadership Coach, Life Coach, Executive Coach
MBA, CFP, CPCC, ACC
I coach individuals, partners and business owners/executives as well as young adults transitioning to life after high school to help my clients create intentional, sustainable change.
About Me
I used to be proud to call myself a "survivor". What I didn't understand or appreciate until much later was that I was surviving. I wasn't thriving. I was not living my own life. I became a coach when I came to understand who I truly am and to live my life on purpose. I discovered the feeling of joy as a result of being fulfilled, not necessarily by being happy all the time.
When you experience something so profound as self-awareness and truly being present in your life, there is fantastic awakening, a great knowing that fills you with tremendous appreciation and gratitude. I coach because I experienced first hand how a person's life can transform, not because their external world changes, but because they become aligned and aware with their inner world. My clients want to get "unstuck", make better choices, move forward, improve their relationships, their work and their results. My coaching process is one of deep self discovery and awareness.
I am a business person, entrepreneur, community volunteer, leader and animal lover. I value creativity and exploration. I love adventure and surprises. I love all four seasons because of the newness and the appreciation for nature each season brings. I am passionate about helping others on their personal journeys. I am constantly amazed how only a 1 o r 2% shift in one's perspective can create significant new understanding or new attitude or a new way of being. I love the quote" Change the way you look at things, and the things you look at change". Nothing outside of you needs to change before you can live the life you are meant to live.
Reviews
Laura doesn't have any reviews yet.