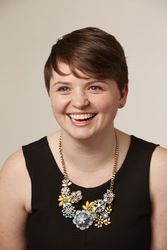 Laura Westman New York, New York
Life Coach, Executive Coach, Team Coach
Accomplishment Coaching Certified Coach, Accomplishment Coaching Leader In Training
I coach creative people in corporate spaces. Want to heighten your leadership and efficacy? Flourish in your own creative projects? I can help you gain confidence and produce incredible work.
About Me
Imagine the sheer delight of enjoying who you are at the core, with nothing to prove.
What would you create in your life from there? Who would you be — at work, at home, in the world? What would your team be creating? Where would you be headed?
I founded Laura Westman Coaching in 2012 on the principle that, like in improv, life is largely made-up and our experience of it is designed. By us. With power, choice, and altitude, we can write our own next chapters. Sometimes it means giving up the stories we have about ourselves and our environments, our talents, our capabilities.
My philosophy as a coach is to embrace the creative energy and brilliance of the people I coach, and support them in harnessing their greatest gifts. I am your confidante, your co-pilot, and the person next to you reminding you of what you are committed to.
I am a graduate of Accomplishment Coaching, an Accomplishment Coaching Certified Coach, a Professional Certified Coach (PCC) through the ICF, and a Leader In Training at the World's Finest Coaches Training Program: Accomplishment Coaching. So, if you take nothing else from this bio, I hope it's that I'm dedicated to mastery in my field and surround myself with opportunities for further learning and development of myself as a coach. I've worked in AC programs in New York, DC, and Kuala Lumpur, Malaysia. Currently, I lead in our program in Chicago and spend one weekend there per month training coaches and mentor coaches, and being trained by the best in the industry. I also have my own coach!
Before I was a coach, I taught improv at Washington Improv Theater. I have my BA from The George Washington University, and I am a lifelong theater nerd and coffee lover.
Where would we go, together, with your talent and vision, and me to keep you on track?
Let's find out. I can't wait to hear from you
Reviews
Laura doesn't have any reviews yet.