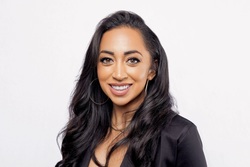 Lauren Morrison

Los Angeles, California
Leadership Coach, Career Coach, Executive Coach
PMP, EQi 2.0, EQi 360, Strategic DE&I
My work is dedicated to helping women (largely women of colour) get clear on the next steps to take in their careers/businesses while showing up as their whole authentic selves in all aspects of life.
Details

Los Angeles, California 91326

8186171870

Send Message
Visit Website
Hourly Rate: $185 to $250 US Dollars
Gender: Female
Training: Certified Professional Coach Program
About Me
I know what it's like to want more for yourself when you already seem to have it all. I know what it's like to ignore those little whispers in the hope they'll leave you alone and you can just remain comfortable and content.
I know how scary it can be to leap before you're ready.
As a certified Career & Business Performance Coach, my work is dedicated to helping women — largely women of color — get clear on the next steps to take in their careers (in corporate settings as well as independent entrepreneurship) and figure out how to show up as their whole, authentic selves in every aspect of life.
Prior to becoming a Career Coach, I spent 13 years working in corporate. There, I went from entry-level to Director within 6 years, won multiple awards, and increased my annual salary by over 300%.
And while my success was exciting, my career trajectory was also very much lacking personal fulfillment.
Still, I was often the only woman of color in my spaces. I never saw people who looked like me in positions of leadership. I was painfully aware of my only-ness — it limited my confidence and self-worth and held me back from achieving my full potential.
Then, one day, I asked my daughter what she wanted to be when she grew up.
"I want to be a host on a home design tv show," she said. "But I know that can never happen because those jobs only go to white women."
Her response truly broke my heart, but she articulated SO well what so many women of color in North America believe: that there are hard limits to what we can be and what we can achieve.
Those words awakened my passion for ensuring that women of color (myself and my daughter included!) could begin to see MORE for themselves.
Since then, I've had the opportunity to coach and mentor dozens of women — many of whom have gone on to build executive presence, earn promotions & exceptional performance ratings, increase their salaries, implement boundaries, and create a greater work-life balance.
Reviews
4 reviews (5.0)
To know of someone enthusiastic, patient, a fountain of wisdom, and willing to share their knowledge is a rarity. To have a person of those qualities as an active figure in your life means you must have done something right because you are about to be given the tools to build your path to success. Lauren Morrison is this rare person. Saying that Lauren has had an impact on my life would be an understatement. Our relationship began 3 years ago on a professional level and has morphed into one of friendship and life-long mentorship. To express the entirety of the value she has brought into my life in just a short paragraph would do a disservice to the tremendous impact she has had. However, two qualities stand out. Firstly, her ability to listen, truly listen, is an unparalleled skill. After each conversation, you walk away feeling heard without judgement or criticism. Lauren follows this with guidance that is cooperative and intuitive rather than autocratic. She ensures that you work through issues together and are armed with the tools needed to reach a successful outcome. Lauren helps you take on daunting battles with an approach that is equal parts empowering and supportive. In a more general sense, Lauren is simply fantastic. She is a personable, charismatic woman who brings positivity, motivation, and a level-headed look at the world. With her experience in (and out of) the corporate world, I can confidently say that she is an impactful leader whose energy and confidence draw others to her. Like a moth to a flame, people want to be around Lauren's inspiring and empowering light.

Olivia S.
Lauren is not only a smart, optimistic and out of the box thinker but a genuinely good person. She is a strong woman who always listens and gets right to the point, allowing you to see the issues for what they really are while empowering you to find constructive ways to solve them. Lauren is a positive force who will constantly motivate you to up your game and reach your career goals by playing your strengths and conquering challenges. Thank you Lauren for all you do!

Julie S.
Working with Lauren is one of the best investments I could have made in myself. Over the last 10 months, she has been patient and kind with me in helping me to find my voice. She has helped me to see that leading with kindness and compassion is the best way forward, which in turn helps me in leading projects with some of the largest financial and insurance institutions worldwide. This investment in myself has helped me to be a big part of closing a 2 million dollar contract for my company. It was a huge accomplishment for us, but, most importantly, me. I haven't regretted a single session, and I look forward to them every month. Thank you, Lauren.

Milessa A.
My best-kept secret has been Lauren Morrison. She is incredibly intuitive, an excellent listener and a natural coach. Through our sessions, I've gained a greater understanding of my personhood and the actions I need to take to live my life to its highest potential. I would also utilize the word "thought-provoking" to best describe her as I learn how to use specific actions in my path to self-discovery. In terms of pedigree, she is a successful business person who also is trained coaching professional. Lauren assesses and offers a view of your situation quickly and effectively. She provides the creative solution of analyzing and dissecting your issues into steps needed to take bite-sized actions. Her uplifting, positive and fun personality makes her easy to open up to and wonderful to work with. She has been a fantastic coach and a caring mentor, and the strategies and lessons she has inspired and motivated me to live a life of truth and passion. I would recommend her to anyone seeing a kind, compassionate and gifted coach.

Tricia A