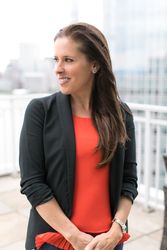 Lauren Seufert

Frankfurt, Hesse
Leadership Coach, Business Coach, Executive Coach
CPCC, ORSC
As a former global business director for a Fortune 500 w/ 20 years of experience, I combine practical examples with effective coaching techniques. Clients can expect personal growth and fast results!
About Me
I focus on building my client's self awareness & communication, as well as support them to engage more leadership in their life. By focusing on them as a whole person (their work, relationships, health and well-being), I take the conversation to a deeper level to achieve sustainable and noticeable results in all aspects of their life. My clients can expect from our sessions my full curiosity, empathy, and energy to create a long lasting connection / coaching relationship. With this, I commit myself to bringing them to their next level of personal growth and development.
I am a CPCC, ICF and ORSC certified coach, and also hold a Prosci certification in change management. As a former business leader having worked with 40+ cultures, I understand how a self-aware, empathetic, and inclusive mindset is key to achieving results in a global and increasingly diverse and changing environment. I am able to easily relate to my clients challenges and combine experience with effective coaching techniques.
My goal is to see a visible and fast transformation in my clients throughout our time working together. I will tell my clients what they need to hear in order to get out of their comfort zones and to be more aware of how others may perceive their behaviors. I do this by bringing my courage, energy and most of all my ability to create a trusting and safe environment for self-exploration and growth.
Reviews
Passionate, Dedicated, Thoughtful, Inspiring. There aren't enough adjectives to describe Lauren as a coach and mentor. She listened well, gave sound advice, and instilled confidence in myself to be a better person. I am really glad for the opportunity to work with her, and see the direct, positive impact it had in my career today. Thank you so much and I wish you all the best!

David Arney