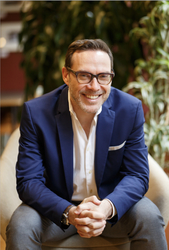 Laurence Hewitt

New York, New York
Executive Coach, Career Coach, Life Coach
Organizational Psych, Positive Psych, CBT certified
I coach professionals from a variety of industries, from individual contributors to the C-suite. I help clients change careers, get promoted, refine their leadership skills and increase productivity.
About Me
I am an International Coaching Federation accredited coach, with 15+ years managing & coaching digital technology, marketing & sales teams, internationally, within companies like IBM, Viacom & Time Warner.
I began my coaching career 14 years ago, as an Agile coach at MTV Networks/Viacom. I was also Senior Director of Operations, helping the organization deliver compelling web sites, mobile apps and emerging technology. Later, I would work for IBM as an Agile and Executive Coach, helping marketing, sales and technical leaders, around the world, achieve their strategic, professional and personal goals.
My coaching style is that of a "Mentor Coach", providing a balanced combination of both advisement, based on my professional experience and asking powerful questions to facilitate the deep thinking that helps you progress toward your professional and personal goals.
Testimonials
"My experience with Laurence Hewitt has been nothing short of amazing. From the first session to the last he coached me through some insecurities I had as a leader and in turn, bettered the larger team. He helped me gain confidence and work towards techniques that helped me grow as a leader. He also coached me to approach and empower my team to grow which has radically changed the day to day within my department. I will always look back on my time with Laurence with such gratitude."
VP, Creative Marketing, major media company
"Working with Laurence helped me to reframe my outlook on working life. His guided approach helped me define what is meaningful about work for me, what criteria are important for me in my career progression."
Research Designer within large tech company
"In three sessions, Laurence brought me to an awareness of what was holding me back; something my therapist wasn't able to do in two years!" Marketing Operations Manager at large tech company
Through Laurence's guidance, I have been able to have tough conversations with ease." VP of Creative Marketing, media company
Reviews
Laurence doesn't have any reviews yet.