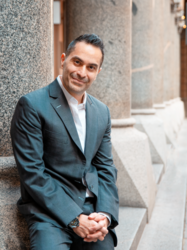 Laurent Kabbabe

Sydney, New South Wales
Career Coach, Business Coach
BS, MBA, NLP Practioner, CFO
I am a career coach who knows firsthand the pain of lack of directions. As an ex-CFO turning into a Career Coach I help professionals find their purposeful career and make it financially viable.
About Me
Are you feeling stuck and unfulfilled with your life and career and cannot break-free from your golden cage? It doesn't have to be this way. As a Business Coach and a Career Coach, I work with professionals, as well as businesses that have been stuck in inertia, and want to reinvent themselves. You could perhaps have a stable, but unfulfilled career, and you are very hungry for change and you do not know where to start and what to do? I can help you!
After 20 years working across the world in luxury retail With Louis Vuitton and for Fortune 500 companies at an executive level, I followed my passion for helping others to become better versions of themselves. I have experienced firsthand the mental pressure and emotional pain many encounters when transitioning countries and careers. This introduced me to the world of coaching, where I now work across the globe taking both individuals and organizations through my 3 step Reinvention model using the most effective techniques, strategies, and tools to close the gap between a state of inertia and a purposeful and financially viable career or business.
Through webinars, seminars, group sessions, and one-on-one coaching, I tailored my success model to enable people in their business lives to run a profitable company, in addition to breakthroughs in people's lives to provide solutions to their life – "stress shifting" fear and insecurities giving them the tool to re-invent themselves living their dreams enabling them to create a legacy.
Reviews
4 reviews (5.0)
I strongly recommend Laurent and I would like to thank him for all the insights and discoveries that I had during the coaching process. It was a forever learning experience and a mindset change. The tools that Laurent has worked with me during our coaching sessions, such as: 2 mm steps everyday to challenge myself, to avoid procrastination and the technique to pushing me out of my comfort zone were very helpful and challenged at the same time. I must say that is a priceless investment.

Luciana
I have been very fortunate to have met Laurent over the past year in São Paulo during his work with FGV University in Brazil. I have worked with him in the capacity of identifying my Ikigai for life and career purpose which was an eye-opening experience. He guided me on a journey where I self-discovered through in-depth reflections what I value the most in my professional and personal life which gave me clarity and made me feel fulfilled to follow up with actions. Then I worked with Laurent to start putting the actions and steps in place after identifying my target market, niche, ideal clients, the problem that I am solving and my unique proposition. I highly recommend Laurent to anyone who is looking for both life and career coaching. Ricardo Arikawa Board of Directors, The American Society of São Paulo Ambassador to the InterNations, São Paulo

Ricardo Arikawa
I found both the workshop and coaching process with Laurent extremely helpful.it helped me gain more clarity on my Life and career Purpose. Over the past several years, I have passed through an extremely tumultuous time which got me more determined to understand my purpose in life . What is all this for? Fortunately, through Laurent Kabbabe, I have come across the Ikigai concept. It is the intersection of ones passion, mission, vocation, and profession. the process enabled me to establish a compass that helped me get more clarity and confidence as to where to go next and what to do - knowing that this will be in line with my values and bring me fulfillment. The coaching with Laurent has helped me to hone in on the next steps and what skills and talents are needed for me to get there. I have found his model and techniques easy to understand and apply, but more importantly have, since using it, I noticed a change in my perspective on life and more amazingly an incredible chain of co-incidences since early this year. Chance? meetings with people critical to the next stage of my journey. I look forward to working more with Laurent in the future and am happy to recommend his work to others.

Jack Sukhen
Laurent has been a great sounding board and also someone who gives great insights based on his life and work experiences around the globe. A key to a great coach is being well prepared but also willing to consider new things as they occur during sessions and Laurent rates high in these aspects. I would strongly recommend Laurent to anyone seeking to achieve their life goals and/or become, as he states it, 'a better version of you'

George Kotselas