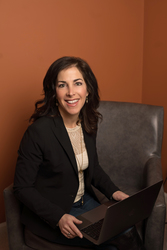 Laurie Greenberg

Ann Arbor, Michigan
Life Coach, Leadership Coach
Certified Professional Coach, Energy Leadership Index-Master Practitioner
I work directly with highly motivated individuals ready to be challenged fully in their personal and professional lives!
Details

Ann Arbor, Michigan 48103
Hourly Rate: $150 to $250 US Dollars
Gender: Female
About Me
I'm Laurie Greenberg, an ICF accredited Life and Leadership coach with 500+ hours of coaching individuals and businesses to achieve new levels of personal responsibility and leadership.
I specialize in transforming energy, which I accomplish by pushing people out of their comfort zone to uncover and counteract damaging, negative thoughts.
I cut through each individual's noise to hone in on what's blocking their growth, then create realistic action plans toward a series of short- and long-terms goals to hold them accountable.
I'm driven by a desire to support and inspire growth in others. But my results-oriented approach goes beyond talking. I'm not interested in wasting my time or yours!
If you are ready to get out of the funk you are experiencing and find your passion again! No more excuses, reach out to me today!
​
​
​
​
​
​
​
​
Educational Qualifications:
Certified Professional Coach (CPC) - Graduate of the Institute for Professional Excellence in Coaching
Professional Certified Coach (PCC) - 60+ additional hours of annual training with the International Coaching Federation, 500+ coaching hours
ELI-MP - Master Practitioner of the Energy Leadership Index (ELI)
​
Reviews
8 reviews (5.0)
When I started working with Laurie, I was doing well but feeling a little stagnant and unsure or where to go next. I had these big ideas of what I might want to do in the long term that I wasn't ready for yet. I was struggling with what goals to set for myself in the more short term that might help me meet my more long term goals, or help me grow in a different direction I had not yet considered. Laurie really helped me work through where to start. Much of the "where to start" goals ended up really helping me realize ways I can better utilize my time, or shift where I was putting my time and energy, to help other therapists feel more supported. It also helped me realize how beneficial it was for me to be spending time on work that helps the business grow.

Kaitlin - Clinical Director, Speech and Language Therapist, Ann Arbor, Michigan
The main challenge that I was facing prior to working with Laurie was the transition from one job role to another in a department reorganization. My new role was expanded to a newly created role that was not clearly defined and required me to self-assess my abilities and areas for growth. The key action that Laurie was able to support me to perform more consistently at higher level was the ability to self-assess the "how" and "why" I arrived where I was (situation), without judging it as good or bad. She then empowered me to use that information and awareness to create smaller attainable goals that moved me towards the bigger vision of where I wanted to go. In addition to the professional growth I experienced working with Laurie, it also significantly improved my personal success. For me, working has always been a means to an end, the sacrifice we make to do everything else. I have always believed in maintaining a work-life balance because, I have never seen a headstone that said, "Beloved Husband, Father, Grandfather and Corporate Trainer." I was able to complete a very stressful three weeks of projects while using a variety of efficiency strategies and tools we discussed. This enabled me to accomplish my work deadlines while preserving my weekend time with my family. I will also be able to put these strategies to use in future projects to preserve more of my evening time too. The most valuable part of working with Coach Laurie was her probing questions. She truly listened to my answers and summarized them in a clear and concise way. She would also ask for clarification so as to avoid any confusion. She was a very effective communicator.

Robert G - Learning Consultant , The Cincinnati Insurance Companies, Cincinnati, OH
Working with you (Laurie) has been fantastic and far surpassed my expectations. I think that I'm responding to challenging situations better than I would have previously. It's important to me to keep building on what I've done so far. Considering the improvements of the last couple of months, infinite potential seems possible.

Megan - Michigan, Director of Philanthropy at Non-Profit
From the moment you meet Laurie, you know that helping others is her true passion. Laurie uses her natural curiosity and intuition to get to the root of my thoughts and feelings every time we speak .This in tur has provided me with many 'aha' moments for which I will always be grateful to her for the clarity that has given me. I highly recommend Laurie as a coach and look forward to continuing my work with her for years to come.

Sheila - Chicago, Founder Life in Order Consulting
Coaching with Laurie was great! I appreciated being able to to have someone that is not associated with myself to talk about goals and how to reach them. She was able to make me feel more accountable for my goals to go back and share my successes or failures with. I also liked having someone to talk through challenges that may arise in meeting my goals. This is something that I have never thought of going in the past.

Jason B. - General Manager 1800, Got Junk Franchise
Laurie has stuck with me through so many different visions for my business. She has an incredible way of walking with me through each frustration, celebration, and question that I have; all while still moving me forward to grow and develop. She has provided me a space to brainstorm, to question myself and to try things without fear of failure and it has been instrumental in developing my business as it is today. I think every business leader or owner needs Laurie to help them gain clarity in their business and keep them moving forward!

Lindsay D. - Human Resources Manager and Certified Professional Coach
Laurie is an amazing coach. She has a genuine belief in the infinite possibilities that we all possess and an intellectual curiosity that helps her clients discover their innate strengths. She is confident, articulate, positive, and strong minded. Laurie balances being deeply compassionate and caring with being direct and mentally tough. She is both intuitive as well as strategic; both supportive as well as intensely challenging when needed. She is quick to identify barriers and roadblocks that interfere with her client's success and very effective in finding creative solutions to overcome these obstacles. I think what makes Laurie most effective is her deep help belief in the power of agency and in her client's ability to manifest their true potential.

Paul M. - Investment Advisor, Senior Planning Advisors, LLC
Laurie G at Infinite Potential Coaching is truly an expert at helping you find your path toward success. Whether in life or business, Lauries approach is open, thoughtful and thorough. Highly recommend!!!

marci rosenberg
The Smart Way To Find A Coach

1 Describe Your Goals

2 Get Matched

3 Free Consultations
Find My Ideal Coach Now