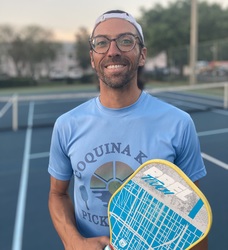 Leo DaLynx

St. Petersburg, Florida
Health and Fitness Coach, Relationship Coach, Spirituality Coach
BA, The Coaching Institute of America - Certified ICF Coach, Ordained Minister 7+ World Philosophies, Founder of BATCH ORGANICS®, and LYNX Fitness
I coach women and sensitive men who want and need to improve their health, relationships, finances and/or their Pickleball game––On and Off the court Coaching that's guaranteed to transform your life!
About Me
Leo's a serial entrepreneur with a diverse background in construction, clothing, bartending and skincare (BATCH ORGANICS®), and he's received extensive training in Life Coaching(International Coaching Federation: ICF ACC), PPR Pickleball certification, and ordained in a ministry of Universal Spirituality and Wellness. With Leo as your coach, you'll gain access to a wealth of practical resources and strategies that will help you take real, tangible steps towards achieving your goals.
Leo's life story is a powerful testament to the fact that no matter how difficult your circumstances may seem, you have the power to transform your life for the better. Growing up in a dysfunctional family with divorce, violence and abandonment, as well as having slight scoliosis, severe allergies, myopia, braces and was bullied weekly in school. At 19 he broke a vertebrae in his back, which caused severe nerve pain for more than a decade. As well as a severe knee injury playing soccer. Leo being the oldest son of a single mother and experiencing various setbacks, knows firsthand the challenges that people often face in life. But instead of letting these challenges hold him back, Leo used them to have more compassion and understanding towards others as well as fuel to overcome many challenges.
Now, Leo is dedicated to helping others achieve their own personal and professional goals. Whether you're looking to improve your health, your relationships, your finances, or your Pickleball game, Leo has the tools, wisdom, and guidance you need to succeed. He specializes in helping women and sensitive men find a healthy balance between career, relationships, and their mental and physical wellness–and he knows that everyone has the potential to claim their own "jackpot" of abundance.
Reviews
5 reviews (5.0)
Working with Leo DaLynx has changed my life in so many ways. I've learned more from Leo in a couple of months than I have from multiple therapists in 10 years of therapy. Leo takes an unconditional nonjudgmental approach with his impeccable listening skills which provides a safe environment for me to share my true thoughts and feelings. Before I met Leo, I was lacking self-confidence and I was holding myself back, staying safe in my comfort zone. With the tools and the perspective Leo has taught me, I've improved my relationship with my family, my friends and most importantly, with myself. Leo introduced me to Universal core beliefs...so mind blowing and life-changing! No longer do I believe the lies (distorted self-limiting beliefs) from my past. I've learned not to take anything personally and be free to be my authentic self. The world is here for me. I can be grateful for every moment, even the unpleasant ones, because I'm using it as an opportunity to learn and grow. I'm now looking at my choices through the positive view of an unlimited capacity, rather than through a scarcity mindset. Every day I am practicing to have unconditional love for myself and others, so I can transform my reality to match my fuller potential. I've learned to dominate my world with positive energy, which makes my life feel like I'm walking on sunshine. Thank you, Leo, I am forever grateful!!

Mary Downing
Leo Listens! When coached by Leo you will feel heard, supported and excited about the next steps ahead. During each of my coaching sessions I was able to hear myself think through my own plans, excitement as well as my own doubts. He has the rare ability to reflect back without judgment and leave you in charge of your own decisions. I highly recommend him for all of your coaching needs.

Jenny Moore
I've been working with Leo over the past few months and highly recommend his services. He is an extraordinary coach! His compassion, kindness, and perception make him an ideal partner for those who wish to level up their lives and/or their businesses. His sessions flow nicely- he's easy-going but honest. He'll guide to you places within yourself that will unlock so much potential. Can't say enough great things!

Trisha E
As a business owner, I struggle with numerous challenges facing the business. Recently, our business has seen unusual growth as a result of a post-COVID surge towards outdoor wellness and we needed to hire quickly. I was suddenly faced with HR challenges that were proving to be stressful to manage. Leo helped me parse through the problems, isolate areas for change and improvement and set me up on a plan to address them. The results were almost immediate and I look forward to every future session to help me tackle the newest challenge.

Tarek
Leo has helped me to see my worth and have the confidence to negotiate better salary, and clear confidence blocks when I have been unsure about how to move forward in my career. Hes knowledgeable about family dynamics and codependency which has also been important for my growth.

Ruth
The Smart Way To Find A Coach

1 Describe Your Goals

2 Get Matched

3 Free Consultations
Find My Ideal Coach Now