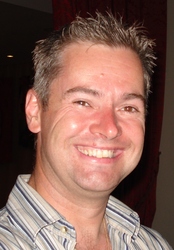 Leon van der Poel

Richmond, British Columbia
Business Coach, Life Coach, Executive Coach
ICF Member
My typical clients are looking to give their performance a boost, to make a change in their lives/career, or to grow their business and are ready to commit to doing what it takes.
Details

Richmond, British Columbia V7C 1T6
Hourly Rate: $125 Canadian Dollars
Gender: Male
About Me
As a business coach I help my clients improve their bottom line and identify strategies to grow their business, while I help business professionals and life coaching clients get clarity on their highest priorities and aligning their actions to match that so that they experience less stress, are more empowered and create the life they want.
I formalized my 5+ years of coaching experience with the best program; Erickson College which is well known for providing professional training programs in coaching and human development since 1980. The courses are considered a forerunner of human development. Under the direction of Dr. Marilyn Atkinson, they have developed a range of innovative technologies, solutions, and programs with the aim of defining the 21st century paradigm for business coaching, innovation and leadership.
I am a graduate of the Art & Science of Coaching, which an ICF Accredited Coach Training Program (ACTP) by the International Coach Federation (ICF); one of the leading and fastest growing coaching training programs in the world. I was fortunate as I was trained by Dr. Marilyn Atkinson herself.
My business experience is in building strategic partnerships and alliances, business development and negotiating contracts on a global business. I have lived in multiple countries, am fluent in Dutch, English and Spanish and have experience with relocating to other countries.

I have been a volunteer with a number of organizations, including the Vancouver Board of Trade Leaders of Tomorrow Program, Richmond Youth Services Agency, and most recently I've also become a mentor for the Canadian Youth Business Foundation.
The single most valuable asset we all have is time—every day, even every second counts… we can't get them back, so we need to make sure we take full advantage of them. Nobody can go back and start a new beginning, but every day we have the opportunity to start working towards a new ending.
Happiness is a happening that YOU make happen!
Reviews
4 reviews (5.0)
I've had the privilege of knowing Leon professionally and personally over the years, and he's one of a few talented individuals who is gifted with energy, enthusiasm, motivation, highly effective goal management strategies, is able to get to the heart of any issue, and bring it all together and share it openly and unconditionally.

Alex C
Working with someone like Leon has been a breath of fresh air and had positive results in my life. He brings with him a positive and innovative attitude. If there is a vision or dream, there is a path to be paved. This is the first analogy that comes to mind when thinking of the "can do" attitude Leon infectiously brings with him. I have been working directly with Leon since 2008. His guidance and genuine coaching relationship has made a significant impact in my life. Personally, I have achieved and learned to believe in my dreams and go for them. Professionally, he has coached me to take a step back before making a decision or reacting to situation, I have learned from him to think with the end in mind. He thinks with the end in mind and is good at guiding others down their own path. His gentle nudging, probing and encouragement helps others to see more colors and possibilities in their potential achievements ahead. I have reaped the benefits of his guidance since I put my learning's and insights into practice. Most of 2009 and 2010; I have professionally and personally achieved what I believed at one time was too difficult or impossible to accomplish. Leon's involvement, and being my sounding board these past two years is a big reason for the shift my life has taken. Personally I have purchased a home alone, taken an assertive approach to the difficult relationships I have in my life, made more time for self-care, become more financially responsible, and working on an independent employment plan. I have learned that I can achieve anything I put my heart to. Professionally, I have overcome a difficult situation with my integrity intact, advancing at my career, nominated as Top Talent in a 49k+ person company, relocated to Montreal from Vancouver to learn and develop my professional growth, completed two university courses…..the list goes on. Leon's "joie de vie" , approach to situations, positive attitude and excitement to see others succeed is his gift. Not only to himself (because he feeds off this) but to anyone who crosses his path. He believes in his mission and his mission is to guide others down the path of abundance! He will help you discover and learn to tap into another you that is already abundant!! Trust me!

Amy O'Donnell
Working with Leon over the past few years has been very beneficial. Specifically, we really appreciated the sales advice. When it came to negotiating deals with large complex organizations, with multiple stakeholders Leon's advice and experience was very helpful. Leon also provided some great advice on sales forecasting, and general business advice. I think Leon has excellent experience and a sincere passion to help others, and I highly recommend him to my colleagues and peers.

Jason Lindstrom, Managing Partner at Tidal Multimedia
Being coached by Leon is like being guided out of a storm with the best GPS available... Leon's calm, cool confident poise lead me into more navigable waters. His clear intent to align you with what is most important is his unique gift...and he will do it with a genuine smile on his face that comes from within... Through his unique style of questioning, new waters are explored... Working with Leon has produced extraordinary results in my life and my business. He even introduced me with a couple of business contacts that open up amazing opportunities. He is a thoughtful, grounded, insightful and inspired person whom you may absolutely trust to be there for you. He provides a safe, respectful, dynamic environment within in which you may explore your potential. I highly recommend Leon ...he will take you on an incredible journey.

Efrain Gerard Benavides, CEO/Business Consultant
The Smart Way To Find A Coach

1 Describe Your Goals

2 Get Matched

3 Free Consultations
Find My Ideal Coach Now