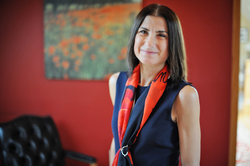 Leslie Monieson

Chicago, Illinois
Executive Coach, Career Coach, Entrepreneurship Coach
MS, MBTI Step I and Step II Instruments, ELI-MP Energy Leadership Index Master Practitioner
I coach business owners, entrepreneurs, and executives in middle-upper management positions to lead authentically, transition successfully, and reach their highest professional and personal potential.
About Me
The coaching partnerships I create with individuals and business owners, entrepreneurs, and executives in middle-upper management positions help them find solutions, shift mindsets, transition successfully and lead while unlocking their highest potential. I am a (CPC) Certified Professional Coach from the Institute for Professional Excellence in Coaching (IPEC), an internationally acclaimed coaching school, and ICF (International Coach Federation) certified coaching school. Also, I am a PCC (International Coach Federation Professional Certified Coach), an Energy Leadership Index Master Practitioner ELI-MP, accredited to interpret MBTI Step1& Step 11 Instruments, and a Certified Conscious Business Coach. My coaching specialties include working with individuals on Executive Leadership, Career Transitions & Transformation, Behavioral Changes, Networking & Relationship Building, and Stress Management.
My clients work with me to remove blocks standing in the way of their desired outcomes, and together we create action plans. Clients often come to a session with a specific goal in mind, but sessions can and do evolve without a stated initial goal. A Session is 45-60 minutes and concludes with agreed-upon action items and accountability.
After three decades of managing family businesses and successfully generating significant returns on angel investments and coaching individuals in the financial, investor, communication, development, and educational sectors, my move to a full-time coaching practice is a natural transition for me.
My career began at Burson-Marsteller managing corporate clients that included: Du Pont, General Electric, and Owens Corning Fiberglass. I then moved to Ruder Finn and led First Brand Corporation's image through media relations and issues management. My B.A. is in Public Relations from New England College and my M.S. degree with a specialization in Corporate Communications from Boston University.
Reviews
4 reviews (5.0)
Leslies directed questions, honesty, support, confidentiality and clarity on my professional business goals gave me the ability to identify the strategies and solutions to lead my department to a higher achievement level than any of us could have imagined. I highly recommend her as a coach for any professional or personal situations.

L.V
Leslie has a unique ability to understand a given situation as if she has experienced it herself and developed the processes and tools to manage it. Her focus is to assist you in learning the valuable skills necessary to navigate the situation at hand, as well as being able to utilize these skills throughout other aspects of ones life. She is results driven and is compassionately connected to her subjects by continuous follow up to ensure needs are met.

Jacqueline DiPaola: Chief Compliance Officer
When I saw that Leslie Monieson was taking clients on in a new role as a Professional Executive Coach, I didnt blink before shooting her a message. Professionally, I was at a pivot point looking for another job or a smooth transition out of the space Id known in a 15 year career. I needed someone to shoot straight with me, help me evaluate my strengths and weaknesses, and leverage them into a career that I would not just enjoy, but be excited about. At Leslie Moniesons core, she is a deeply engaged and committed human who is active, vocal, and visible as she helps people find their strength and in turn, make them feel like their best selves and, ultimately, believe in themselves. Leslie isnt singularly focused she knows that there are exciting opportunities beyond my limited frame of reference, and was anxious to help me start that journey. To Leslie, each clients journey is intensely personal and vastly different. She is a cheerleader when needed, a coach when the time calls for it, and a shoulder to cry on --but just for a minute -- before putting a plan in place that is easy to execute to get you through said hard time. When you think there are few people to count on, Leslie is there. Mary Omalley Head of Admissions

Mary O'malley
Leslie is fantastic at her job and I would not hesitate to hire her. She brings her background in counseling to help understand the root cause of behaviors and to help change them. Her advice has been invaluable and I would highly recommend her to anyone who is looking for an intelligent, empathetic yet tough, and solution-oriented person to help navigate both professional and personal issues. Sandra McGill Partner at McDermott, Will, Emery

Sandra McGill