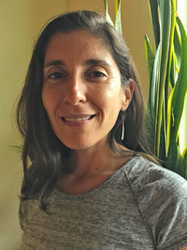 Ligia Gomez

St. Petersburg, Florida
Life Coach, Health and Fitness Coach
MPH, 500 RYT (Yoga Alliance Registered)
I support clients who are over-doers, yearn for authentic relationships, and resist honoring their needs with a holistic body, brain and life path to unlocking their wellbeing, presence and purpose.
About Me
In life, we all run into walls. Chronic pain. Debilitating self-criticism or self-doubt. Unhealthy patterns when dealing with pain, grief or uncertainty.
I spent my 20s and part of my 30s struggling with Irritable Bowel Syndrome and related GI-difficulties, and a baseline of stress that kept creeping up. I woke up most days feeling drained, nauseous, and overwhelmed. My background is in public health and human services, and I increasingly struggled with peaks of high motivation and dedication and lows of burnout, resentment and isolation. I was over-doing in the work, while neglecting the relationships with my partner, family and friends. It was clear that my way of approaching career and life were not sustainable physically, mentally or emotionally.
During those years, I visited many GIs, changed my diet, took stress management courses, and jumped between a lot of other strategies that provided only temporary relief. It wasn't until I had the support of coaches to patiently uncover the underlying drivers of my IBS and stress - perfectionism, lack of self-empathy, a lack of connection with my body, among others - that I started to see a light at the end of the tunnel.
In my work with clients, the first step is clearly identifying what needs attention in your life right now - back pain; recovering from an injury; chronic stress or anxiety; facing a big change like retirement, childbirth or divorce; or trying to get better sleep are just some examples. We set ourselves up for success when our coaching plan is targeted and when we have the confidence to start with the big stuff first.
From there, we work on the most potent therapeutic practices for you: slowing down the racing mind, training your capacity for stillness and inward attention, building awareness of deep-seated patterns of action and thought, and implementing protocols for interrupting your automated responses - ultimately helping you make the small adjustments that add up to big transformation.
Reviews
4 reviews (5.0)
Restorative yogabetter than therapy! I am new to yoga, but a few months ago I started having some very painful bloating and intestinal issues. I was subsequently diagnosed by my gastroenterologist with something called SIBO (small intestine bacterial overgrowth). My stomach problems were being exacerbated by my anxiety so, as part of my treatment, my doctor recommended I look into restorative yoga to learn about deep breathing and relaxation methods. I was lucky enough to come across Ligia at St Petersburg Yoga. I can honestly say that working with her has changed my life. Ive always been a high-anxiety personality, always trying to fix things. Through her restorative yoga sessions, Im learning to retrain my brain to focus on the here and now. While Im still working on treating my gut issues (its not a quick fix), Ligias sessions have enabled me to reduce my anxiety, which has greatly reduced my pain. Even my husband has commented on the positive change in my outlook on life. Im in my 60s and I wish I had found this yoga practice years ago.

Lydia Ladwig
Real change, enduring change, happens one step at a time. Ruth Bader Ginsberg. I met Ligia in May of 2019 when I walked into St. Petersburg Yoga for the first time.I was depleted physically, emotionally, and mentally, exhausted from overworking and the deaths of my father and a close friend. I was filled with grief, anger, resentment, and regret. I intended the practice to be a means to escape the pain through avoidance, not transformation. I didnt even know what yoga was. Ligia had to build me from the ground up. The thing I value most about Ligia is her dedication to each student as an individual, even when were in a group setting. She knows me because she listens not only to the things I share verbally and through email, but also to the silences. She recognizes patterns often--even before I do. For example, when my father died, I was sad, but equally angry. I was overwhelmed by his death, but as an overdoer, I was already on overload. I started throwing everything away. I told her I was overwhelmed with stuff, and it had to go. She gently nudged me in a more appropriate direction by reminding me that I was overwhelmed in all areas of my life. I was focused on the one that caused the most pain, taking the out of sight, out of mind approach. One year later, I was sad and angry when my husband deployed, and I repeated the pattern, discarding his and our things. I mentioned I had two days to get rid of everything in a joking way during class, not sharing that I was sad and angry. In fact, I pretended it was nice to be alone. Ligia reminded me of my pattern of out of sight, out of mind. Again, she nudged me gently, and we began again. Ligia creates a warm environment, whether one-on-one or in a group. I never feel judged, and shes helped me with judgement of self and others. In weekly meetings and workshops, Ive learned to act with intention, specifically with communication and difficult conversations when I hold myself accountable and don't get the same in return. I recognize when my emotions are heightened and Im reacting to pain. Ive learned how to respond to my own resistance to change. Through self awareness, Im more compassionate to myself and others. I also recognize edge and when it's time to reset my gauges. Ligia, for me, is as valuable as my mat. Through her, Im taking one step at a time toward real change.

Beth Bailey
I came to coaching with many years of physical pain and mental habits that were keeping me small. With Ligia, I have found relief in my body, less worry in my mind and felt more confident with important life changes in family, relationships and work.

Luz M
I've been working with Ligia for the past year, she has been a great support in many aspects of my life. She has given me the tools to cope with my fears and anxiety. Afert every session we have together, I feel more empowered to face those fears through all the excercises she proposes. She has also good material to read that also helps throughout the journey. I not only recommend Ligia as a life coach, but I will definitely continue my personal growth with her.

Veronica Moncada Góez