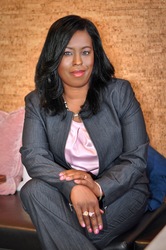 Lila Asante-Appiah

Detroit, Michigan
Executive Coach, Leadership Coach, Career Coach
MA, CPC, CCC, PHR, SWP
I provide professional coaching services to women from all walks of life who are ready to get unstuck and are looking to achieve extraordinary results in their careers and lives.
About Me
I am a certified professional coach who is passionate about supporting and enabling women from all walks of life who are capable and ready for change and transformation. I am the President and Co-founder of Purposeful Pursuits, a non-profit organization that provides executive/leadership, business, and career coaching as well as affordable professional development workshops.
We offer value-added services to those who are seeking to get unstuck, and achieve extraordinary results in their lives, careers, and solopreneurships.
Through our four-step coaching process, our clients experience awareness, clarity, motivation & confidence. Most importantly, they increase their self-awareness, deepen their learning, and improve their performance. We provide the expertise and support our client's need to achieve their goals. Our coaching framework is grounded in a proven model of change. Our model has been developed by leveraging over 25 years' experience focused on career development, leadership practicum and skill enhancement, professional coaching, organization development and change management expertise. We inspire professionals at all levels to maximize their personal and professional potential; improve their effectiveness and capacity for change, and realize their short/long-term goals.
I have spent the last 25 years working in various organizations as a business executive who has achieved success through leading and influencing others. I am a professional coach and a trusted advisor with expertise in human resources, talent management, and organization development.
I acquired my bachelor's degree in Business Administration and a Masters in Organization Development. I have several certifications in several areas including professional coaching (CPC) and career coaching (CCC) credentialed by the World Coach Institute.
Reviews
3 reviews (5.0)
Lila is incredibly talented at what she does. She has exceptional coaching skills, experience and passion for helping others be their best. She has mentored and coached me for several years in different capacities (i.e. leadership, personal, spiritual, career path) and the person I am today is greatly and positively influenced from her. She is compassionate, empathetic, incredibly smart, strong business acumen and people focused. Feeling connected to her is organic. You can be vulnerable and open with her regarding anything because she truly wants to help you feel and act your best. She actively listens and consults you in a manner that you are open to it, and can apply her advice and strategies into your interactions and frame of thinking that result in favorable outcomes all around. I would highly recommend Lila for her expertise and character. She is authentic and a person of integrity. It's hard to find someone that has the depth of experience she has, coupled with outstanding people skills. If you consult with her, it will positively impact all areas of your life and yield both measurable and immeasurable benefits.

Chelsea Henson
The insight I have been given during my coaching sessions with Lila have been life altering. I am learning of strengths that have been hidden and unused for a lifetime. Her knowledge is priceless and her ability to draw from my responses with feedback that are not only informative but they have become a catalyst to inspire me to pursue more. The confidence I have gleaned from her is beyond words. I would recommend Lila to ALL and I am so blessed to have a coach that is revealing the true me and giving me direction that has profoundly changed my professional and my personal outlook.

Angela Susberry
Lila was so wise! She really knew the right questions to ask and how to help me. Lila was not only empathetic but also worked with me to create concrete steps for where I wanted to go in my career. Thanks to Lila's coaching and guidance I was able to find a new job in a new city, and I gained confidence in myself and my future goals. I'm forever grateful!

Abigail Batista