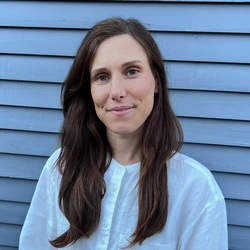 Lily Oster

Raleigh, North Carolina
Relationship Coach, Spirituality Coach, Health and Fitness Coach
NBC-HWC, Internal Family Systems
If stress, anxiety, & fear cause pain in your body, relationships, & emotional life--your nervous system is holding you back! I'll teach you nervous system magic to heal & create the life you desire.
About Me
By learning to speak the language of your nervous system, you can heal your blocks and reconnect to your capacity, resilience, and vision for your life. I use nervous system magic to help clients particularly with attachment, intimacy, and relationship issues (individuals and couples); patterns of chronic pain and suffering in the body; and healing emotional and spiritual wounds so that you can reclaim your true nature.
I am a trained Internal Family Systems (IFS, or parts work) practitioner with a focus on nervous system regulation and attachment/relationship healing. Through IFS integrations, you can heal old patterns of relationship distress, intimacy challenges, perfectionism, fear, self-doubt, unworthiness, people-pleasing, destructive behavior, and more. Through releasing these stuck places and retraining the brain for healthy functioning, you gain more and more access to wellbeing, inner power, and healthy connection.
I am also a National Board Certified Health & Wellness Coach (NBC-HWC) trained in Pain Reprocessing Therapy, with years of experience helping people recover from chronic pain, fatigue, and other chronic stress-related illness, burnout, and stuckness. Healing is possible--I love supporting people in the process of recovering freedom in mind and body.
Reviews
8 reviews (5.0)
I've been working with Lily Oster as my spiritual director for over a year, and the work we have done together has been insightful, encouraging, challenging, and empowering. From processing religious trauma, to forming new habits and rhythms around spiritual practices, to helping with vocational discernment in my current career path, Lily has both walked beside me and helped equip me with new tools and ways of experiencing my work and life. I have really appreciated her ability to listen to my individual needs and engage with my situations and challenges with both insight and approaches to guide me through them in creative ways. I have found new ways of connecting to my own spirituality through our work. I am grateful for what we've done together and looking forward to working with her more.

Ian C
Lily is incredible. Our work together is guided, focused, and powerful; she has helped me in measurable ways, and I leave each session with a new insight or set of tools. I was drawn to her in the hopes that she could help me process and learn from a traumatic event, and to identify and retrain fear- and anxiety-based patterns and behaviors. With her help, I feel like I'm stepping into a new nervous system and a heightened, more compassionate awareness of "me" in all its complexity. I can't recommend Lily more highly. She is my partner in tough work, and I feel very lucky to have found her.

Alison
Lily has truly changed my life. I have been dealing with terrible chronic pain for over 4 years that had truly halted my life. I saw Dr. and Dr., I tried alternative medicine, EMDR, acupuncture, I went to a healer... the list goes on and nothing helped. Then someone referred me to Lily and everything changed. It's almost been a year now of being able to manage my chronic pain to the point when I even forget it was ever such a huge part of my life. She has given me tools for when I have flare-ups and I've seen how quickly my brain and body were able to connect to what we were working on. She has such a calming energy and I feel so comfortable with her. I am now having her help me with other aspects of my life and I thank my lucky stars every day since she came into my life. I couldn't recommend her more!

Vanessa W.
I thought I was going to be disabled for the rest of my life when I met Lily. It had been two months since I had been able to use my hands, and I was suffering every day with the worst pain I had felt in my life. After just one session with Lily, I felt an immediate relief, and I was back to full functioning within a month. Lily saved my life and I cannot recommend her enough if you are suffering from unexplained, chronic pain.

Julie
Lily has changed my human experience on earth. I struggled with chronic pain in my back for 14 years. Tears, needles, ayahuasca, physical therapy, global yoga teachers … and no cure. Then along came Lily and through constant mind-body practice, I have found relief. I will always be grateful to her and her sacred work she does for humanity.

April
Lily is such a kind and caring soul. I came to her with undiagnosed, crippling pain and weakness in my leg, and a distrust of any alternatives to the standard medical process which had failed me thus far. But Lily patiently and methodically set my worries and skepticism aside with her mindfulness teachings. Not only did she help me eliminate my leg problems, allowing me to walk and run again, but she instilled in me a greater confidence in my body's healing abilities that I will forever cherish.

Ari
Working with Lily provided conversations and insights unavailable anywhere else. One of her many great gifts is her versatility: she is available for a wide range of modalities of spiritual and somatic practice as well as deep intellectual engagement. She is not afraid to take on whatever ails your spirit and provide you with the tools and support to help you make better sense of things. Lily is wise and kind, open and generous. Truly a source of light in my life.

Bela
Lily is a pro. Honestly, I hate to think where I would be right now without Lily . . . a pain coach provides essential support when you are having doubts about getting better. Lily is great at listening with empathy as well as honesty. She is always curious and helping me learn more about myself. I know she really gets what I am going through. She calmed me on bad days and inspired me on good days. I could not have been successful on this journey without her.

Story