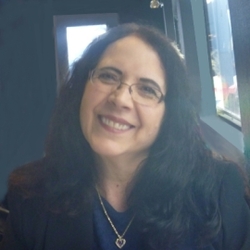 Linda Ocejo

Park Ridge, New Jersey
Life Coach, Relationship Coach, Career Coach
BA, MA, CLC, CPRP, Certified Teacher
I coach adults, who may need assistance/support with specific areas of their lives, or with particular "life-problems" which they may be going through. I assist my clients in reaching their goals.
About Me
I hold an MA in Psychology, as well as a BA in Psychology, and had been practicing in the field of mental health for many years. I am a Certified Life Coach, and I also hold the credential of Certified Psychiatric Rehabilitation Practitioner. Additionally, I hold a teacher's certification in the state of New Jersey. Throughout my lifetime, I have always had a passion for helping people reach their particular goals and aspirations, whether in my professional life, or in my personal life with family and friends. Life Coaching enables me to work with clients who may need some extra support and insight/guidance relative to reaching their particular goals and/or aspirations. I work with adults, and all sessions are done via telephone or Skype. I truly believe that each day of our life is to be cherished and lived to the fullest....
Reviews
12 reviews (5.0)
"Linda really saved me from making an additional "bad choice" in my life. I was about to marry a man that was obviously "not for me," when I reached out to Linda for guidance. After sorting through the specific and real goals that I wanted for myself, I knew that this man would not have been the right choice. Linda and I set goals that I could reach and I am now in a very happy, fulfilling relationship. I learned to respect myself more, and I also like myself more. Thank you, Linda.

Beverly P.
"When I first reached out to Linda, I was in an extremely unhappy marriage, and I was trying to figure out how I would be able to successfully support myself after a divorce. Linda not only helped me deal with all of the emotions that I was going through, but she helped me come to realize that I had many "job marketable" skills/abilities, which I did not realize I had. Together we set specific goals, with accompanying timeframes, and today I am happy to say that I am successfully employed with a job that allows me to support myself in the lifestyle I am accustomed to. I could not have done it without Linda's compassion, knowledge, experience, and excellent coaching skills."

Karen S., Bergen County, New Jersey
"Linda is caring, helpful, compassionate and giving of herself."

Roz
"Linda is the most kind, compassionate and caring person I have ever met. She is always there when needed and is a true friend."

Diana
"I have had the privilege of being a colleague of Linda Ocejo for many years in an outpatient mental health agency. Linda's compassion for people, her genuine interest in the well-being of others, her professionalism, and her clinical wisdom and skills are truly inspiring. If you have the opportunity to work with Linda, you will undoubtedly find her to be a genuine blessing in your life."

Allison S.
"If I were to seek out a life coach she would need the qualities of high moral character, one who loves and respects mankind and is capable of reaching out to help people, and one who possesses the credentials, life experiences and motivation to give to humanity. Mrs. Ocejo is an individual who fits that description. I know this because I have spent many years observing Mrs. Ocejo in the work environment and watched her response to the clients and theirs to her.... At all times she was a professional who never forgot what she was there for and always worked to full capacity in an effort to better the lives of others. As a humanitarian she lives this philosophy with colleagues and people in general. She is a consummate example of a person who knows how to conduct her own life and is therefore my choice of a life coach. I would recommend her to anyone without hesitation and reservation."

Vivian D., Licensed Professional Counselor
"In all of the years that I have known Linda, I found her to be undeniably kind, considerate, respectful, and nurturing. I have also experienced her in my life to be thoughtful, professional, and understanding. Over the many years that she has been practicing, she has an outstanding reputation and respect within the mental health community. Linda has extensive experience in dealing with complicated and/or challenging issues. For all of the years that I've known Linda, she has helped me reach all of my goals, and has influenced my life greatly in many ways. It has been and honor and a privilege to have Linda in my life."

Renee B.
"Linda is a patient and insightful life coach who has helped me put my life on track. Linda helped me see past the negativity in my life and achieve my goals through the power of positive thinking, and taking active steps to achieve my goals. Linda has given me the life skills to keep negative people from influencing my life."

P.J., New York
"Linda Ocejo is a kind, warm hearted human being with a great compassion for others. Her greatest gifts lie in those beautiful moments in which she listens to others and offers her warm thoughts and sage advice. She is devoted in her role as life coach, and finds her greatest pleasures in helping others lead healthier, more productive lives. Linda is a shining example of a talented professional who engages others in the most effective ways. I wholeheartedly endorse and recommend Linda Ocejo as your Life Coach."

Mindy C., APRN, Professional Supervisor and Colleague
"After 18 years, teaching still has its ups and downs. There are days that can be overwhelming. Unstable home lives, state tests, and the ever changing rules of the profession are just a few stresses of being a teacher. I usually grab a cup of coffee and call Linda. Somehow, after venting, Linda shares insightful questions and picks out my strengths (that I forget about on a weekly basis). After chatting with her, I always walk away realizing my problems that were once complicated and overwhelming became sorted out and approachable. Linda is like my "pick me up." I still call on those tough school days, but I make it a point to call on the good days as well...to say "I did it!" I highly recommend Linda. You won't be disappointed! She really listens and cares about what you have to say!"

Stephanie M., Teacher
"I scheduled sessions with Linda after feeling like I had hit some road blocks in my career. I'm a recent graduate and had challenges adjusting to my job for various reasons. I found sessions with Linda to be very helpful. She is warm, understanding and an encouraging person. I was motivated to push myself beyond my insecurities and face my fears. I would recommend Linda to anyone who needs a jump start in their career or life in general."

Simone S.
"...Some [people] just need a kind and supportive heart to take them through a rough patch. Linda responded to me in a moment when I felt as if the pressures of my life were getting the best of me. I was overwhelmed with fatigue, stress and grief, and needed help to get through a rough day at work. I was a complete stranger calling from another state. Before she spoke about payment, she took care of a person in need of help. Her compassion was touching, and made me feel very fortunate to have met her. I believe that no matter how well educated and well trained a [person] is, their help is not effective if they lack genuine care towards fellow humans. Linda is well-educated as well as kind and caring."

Miriam W.