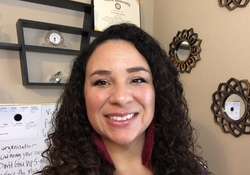 Lindsey Morales-Andrews

Overland Park, Kansas
Entrepreneurship Coach, Life Coach, Relationship Coach
Certificate in Executive Leadership, Certificate in Marriage Mentoring & Couples Coaching
I help women entrepreneurs, coaches, and creatives design their ideal lives and develop their purpose-driven businesses without lack or delay.
About Me
Lindsey Morales-Andrews is the Founder of Meta Vida Coaching. She is a Success Coach, Entrepreneur, and Author. She helps business owners gain clarity on their life vision and build harmony in life and business.
Lindsey has graduate-level training in life transformation work. She has successfully facilitated change for individuals, groups, and organizations. When Lindsey learned about the practice of coaching she realized it was her life purpose. She then began her journey coaching others on how to become abundant thinkers, launch and grow their purpose-driven businesses, and establish a relateable expert brand online.
Lindsey loves helping others who are called to life transformation discover their niche and turn their passion into profits.
She has spent the previous decade building experience in the areas of the success mindset, behavioral psychology, and entrepreneurship.
Today, Lindsey is the CEO of Meta Vida Coaching and Consulting. Where she services as Chief Coach. She has dedicated her life to helping women entrepreneurs build a legacy for their families through the world of business. Meta Vida offers a wide range of self-help products and services empowering others to live an abundant life.
Meta Vida Services include Life & Business Coaching, Relationship Coaching, College Readiness, & Organizational Development Consulting.
Reviews
7 reviews (5.0)
My experience with Lindsey Morales as a coach has been life-changing. Everything she has listed on [website] she will do for you as a coach. All she has stated is literary what you get every week and by the end of each of your sessions. Since day one Lindsey has helped me get clear on my life vision and purpose in business. She showed me it is possible to start your own business and helped me be confident to become a businesswoman. She definitely helped me identify my true desires. Every week we would tackle every hindrance or blocks that would keep me from becoming a successful businesswoman and at the end of every session, we found a solution and how to fix and change them. The 1 on 1 sessions are very productive. Her wisdom leads to a change of mindset into an abundant mindset. She gave me the tools I needed to build my New business from the ground on up. Coach Lindsey even made my First business card for me and it was well done. As Lindsey always says Life begins outside your comfort zone, this is very true and she will help you out of any comfort zone you may have in a wise and effective way. Lindsey Morales is Excellent at what she does and You only gain when you work with her. I am forever grateful for Lindsey Morales.

Caroline, Artist & Entrepreneur, Olathe Kansas
"Lindsey has a way of asking the questions that will allow you to come from whatever is blocking you from moving forward."

Catherine, Business Owner, Kansas City Kansas
Lindsey is the real deal. She has the academic background and work experience that make her an incredible business coach. Being a solopreneur can be a challenging endeavor, but with Lindsey as my coach, I found the support I needed. I know that Lindsey was someone with a genuine interest in the success of my business. Her coaching around marketing, business development, and sales has resulted in a lead magnet creation and launch, utilizing social media effectively, ideal client clarity and giving a presentation that sells my programs. She coached me to sell without being salesy, which has been invaluable because I have struggled with that aspect of the work. I highly recommend Lindsey.

Tajan R., Career Coach, Boston Massachusetts
I highly recommend Lindsey with her exceptional wisdom and insight in communicating to others. She has the experience to effectively demonstrate compassion in bringing out the best in others to propel them into their destiny and purpose!

Gail S., Entrepreneur, Kansas City MO
Lindsey is a very charismatic, strong and professional coach. During our sessions, Lindsey made me feel really comfortable and in a safe space. She helped me uncover what has been causing me to spin around and not be able to move forward as fast as I wanted in building my business. She helped me create an action plan which turned into a clear road map to launching my business and getting my first paying clients. I would strongly recommend working with her if you are looking to compress your timeline to building a successful business.

Iva G., Branding and Success Mindset Coach, Indiana
Working with Lindsey has been a life changing and purposeful experience for me. Throughout the short amount of time working together, I have become more confident and clear on my business goals. During our sessions, Lindsey made me feel really comfortable and open to new possibilities.She has not only shown herself to be a passionate coach, but she has also played the role of a mentor. Lindsey has helped me become clear on my desires by holding me accountable, motivating me and directing me into my purpose. Her expertise as a business coach has also helped me define my target market, in addition to creating a strategic plan that is allowing me to build a better brand. Initially, when we first started our sessions, my plan was to wait on building my business until my website was up and running. However, Lindsey encouraged me to start working now. She empowered me to think abundantly and worked with me to figure out how I could actively get started with my passion! Her effective coaching skills and her warm approach allowed me to trust her with my visions and it forced me to act on the goals that I was sitting on for so long. Her "abundant mindset" approach has not only played a role in my professional development, but it has also stimulated growth inside of me personally. If you are looking for a mind shift, clarity on your desires and purpose, or growth in your business, then Lindsey is the woman for the job.

Jameela P., Writer & Founder of Daughters Lead, Atlanta Georgia
I have had the absolute pleasure of being coached by Lindsey, she is such an inspiration and has motivated me to take the next step towards starting my career in photography. Not only does she motivate me, she also has given me the tools to be more productive in all the areas in my life I wanted to work on. I love how passionate she is about her work and every time I spoke with her I felt a connection and that she really understood what I am trying to accomplish. I highly recommend her to anyone who is looking to improve their life or is needing that extra push to start their business!

Heather F. ,Photographer, Miami Florida